GRAND CANYON NATIONAL PARK AWARDED PARK STEWARDS GRANT FROM NATIONAL PARK FOUNDATION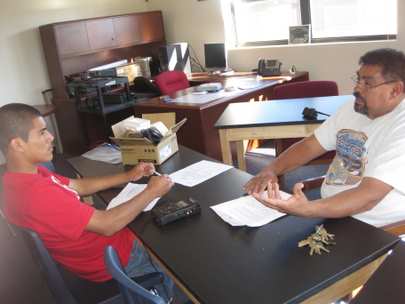 News Release Date:
June 10, 2011
Contact: Maureen Oltrogge, 928-638-7779
Contact: SuZan Pearce, 928-638-7762
Grand Canyon, Ariz. – The National Park Service recently received a grant from the National Park Foundation to support the continuation of an oral history project at Grand Canyon National Park. The innovative project encourages students to interview and record people of importance to Grand Canyon's history. The grant is part of the National Park Foundation's Park Stewards program which gives high school teachers and students the opportunity to build a deeper connection and sense of stewardship for their national parks through personal engagement and service learning projects.
"It is an honor to receive this grant as it will allow us to continue this important oral history project that was started last year with Grand Canyon High School through a similar grant from the National Park Foundation," said SuZan Pearce, Environmental Education Specialist at Grand Canyon National Park. "Due to time and budget constraints, stories of importance to national parks often go unrecorded and are sometimes lost when people pass away or move on. Interviews that students collect will be useful to historians and will help park interpretive rangers share these meaningful stories with the public in the future."
According to Ms. Pearce, since its inception, four additional schools have expressed an interest in partnering with Grand Canyon National Park on the project; two of the schools have already started collecting interviews. As interest in the project grows, the grant will allow more teachers and students to become personally engaged in their national parks while enhancing the park's oral history library.
"The Park Stewards program gives teachers and students the opportunity to participate in meaningful and educational, hands-on experiences in their national parks," said Neil Mulholland, President and CEO of the National Park Foundation. "By encouraging high school students to develop strong connections with the outdoors, we are helping to ensure that our parks will continue to be protected and preserved by future generations of park stewards."
The National Park Foundation, in partnership with the Bank of America Foundation, awarded Park Stewards grants to 21 national parks across the country.
A full list of grantees and project descriptions will be available on the National Park Foundation website at https://www.nationalparks.org/npf-at-work/our-programs/apply-grants-programs/.
For additional information about Grand Canyon's oral history project, please contact SuZan Pearce or Jacob Fillion, Chief, Environmental Education at 928-638-7762. For information on Grand Canyon National Park please call 928-638-7888 or log onto the park's website at https://www.nps.gov/grca.
###
ABOUT GRAND CANYON NATIONAL PARK
Proclaimed a national park in February 26, 1919 Grand Canyon of the Colorado River encompasses 277 miles of the river, with adjacent uplands, from the southern terminus of Glen Canyon National Recreation Area to the eastern boundary of Lake Mead National Recreation Area. The forces of erosion have exposed an immense variety of formations which illustrate vast periods of geological history.
ABOUT THE NATIONAL PARK FOUNDATION
You are the owner of 84 million acres of the world's most treasured landscapes, ecosystems, and historic sites -- all protected in America's nearly 400 national parks. Chartered by Congress, the National Park Foundation is the official charity of America's national parks. We work hand in hand with the National Park Service to connect you and all Americans to the parks, and to make sure that they are preserved for the generations who will follow.
-NPS-
Last updated: February 24, 2015