Grand Canyon National Park accomplishments outlined in new report for fiscal years 2009 and 2010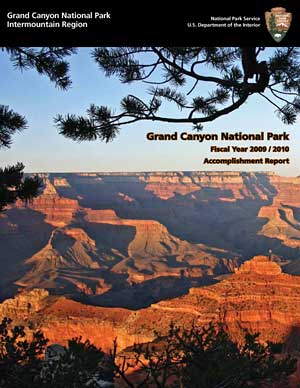 News Release Date:
December 27, 2010
Contact: Maureen Oltrogge, 928-638-7779
Contact: Barclay Trimble, 928-638-7319
Grand Canyon, Ariz. – Grand Canyon National Park Superintendent Steve Martin, today announced the availability of an accomplishment report for Grand Canyon National Park for fiscal years 2009 and 2010. The report highlights many of the challenges that were addressed by park staff over the last several years, as well as a summary of key accomplishments.  
"The genesis of these accomplishments starts in 2007 with a series of goals set for the park by the National Park Service Intermountain Region and Washington Offices and the Grand Canyon management team," stated Superintendent Martin. 
At the start of 2007, the park was faced with several major management challenges, including the need for an effective transportation plan to improve visitor experience and safety, as well as to improve access to the park's main visitor center; adequate employee housing to improve employee recruitment and retention; high leasehold surrender interest in many of the park facilities operated by a park concessioner; the need for environmental improvements to key park infrastructure that could serve as examples for sustainability; as well as many other important planning projects such as the substantial restoration of natural quiet to the park, participation in the Glen Canyon Dam Adaptive Management Program for the restoration of high flow protocols  and completion of a fire management plan.  
"As we near the end of 2010, and reflect back over the last several years, most if not all of these challenges have been addressed leading to significant improvements in the protection of park resources, visitor experience, employee living and working conditions, and the safety of those who visit and live in Grand Canyon," stated Superintendent Martin. "Over the last 35 years I have been involved in the management of parks from many different perspectives. The accomplishments by the staff at Grand Canyon, however, surpass anything I have seen from the many incredible management teams I have worked with." 
Accomplishments outlined in the report include:  
·        Significant improvements at the Grand Canyon VisitorCenter, Mather Point and South Rim Entrance Station.
·        A new visitor center at Verkamp's.
·        New Trail of Time exhibit.
·        Additional protections and improvements to park resources.
·        Rehabilitation of Inner Canyon Corridor trails.
·        Reconstruction of Hermit Road and a new accessible Hermits Road Trail.
·        Pavement preservation project for all park roads.
·        Rehabilitation of remote and historic Inner Canyon ranger stations.
·        New and improved employee housing.
·        New housing at Supai Camp.
·        Approval for a new Science and Resource Management building.
·        Upgrades to several antiquated park buildings.
·        Rehabilitation to the Desert View Watchtower.
·        New office space for Grand Canyon employees in Flagstaff.
·        State of the art photovoltaic panels at the Grand Canyon Visitor Center and other "greening" improvements.
·        New educational programs to inspire the next generation of environmental stewards.
·        A developmental leadership program for Grand Canyon and other Intermountain Region employees.
·        A new dispatch center and other improvements for visitor safety.
·        New restrooms throughout the park.
·        Development of a new fundraising program and partner.
"I leave my tenure at Grand Canyon knowing we have accomplished a great deal of work. We have made significant improvements in the protection of park resources, to employee work and living conditions, to the Grand Canyon community, to the gateway community of Tusayan and to the visitor's experience," said Superintendent Martin. "This report reflects the successes of our park staff, with support from the National Park Service Intermountain Region and Washington Office, and many park partners including the Grand Canyon Association, Grand Canyon Trust, affiliated tribes, the National Parks and Conservation Association, and neighboring communities and government agencies."
Copies of the Grand Canyon National Park Fiscal Year 2009/2010 Accomplishment Report will be posted on the park's Website at:
https://www.nps.gov/grca/parkmgmt/upload/GRCARptFinal20101223.pdf
Questions regarding the report can be directed to Barclay Trimble, Deputy Superintendent at 928-638-7319.
                                           -NPS-
Last updated: February 24, 2015