Grand Canyon Hosts World Heritage Fellow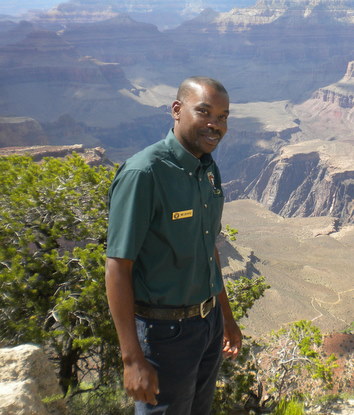 News Release Date:
July 28, 2010
Contact: Shannan Marcak, 928-638-7958
Grand Canyon, Ariz. – Marc Jean-Baptiste of the Seychelles Islands Foundation spent two months immersed in the details of people and park management at Grand Canyon National Park.
Jean-Baptiste works for the Seychelles Islands Foundation (SIF) as the Site Manager for Vallée de Mai World Heritage Site located on the island of Praslin in the Seychelles off the east coast of Africa. Seychelles Islands Foundation is the public trust which manages both World Heritage Sites (WHS) in the Seychelles, Vallée de Mai and Aldabra. These two sites protect unique species of palm, fish, parrot and gecko, just to name a few; and Aldabra has the largest known colony of giant tortoises (over 100,000) in the world. 
Marc was the third person to be sponsored by the National Park Service's (NPS) fledgling U.S. World Heritage Fellows program which promotes conservation of WHS around the globe. The World Heritage Fellows program provides qualified candidates from WHS outside of the United States (U.S.) with the opportunity to temporarily reside in this country and work alongside the managers and staffs of U.S. World Heritage Sites. 
According to Jonathan Putnam, NPS International Cooperation Specialist, "Ideally, the entire international community plays a role in the protection of every World Heritage Site. This is a way for the National Park Service to help the United States fulfill that responsibility. Through this program, site managers from World Heritage Sites in other parts of the world can learn from the NPS's decades of experience managing natural and cultural sites; and the NPS, likewise, gains new ideas and perspectives that can be applied to the management of our own parks."
Fellowship applicants are asked to provide information on management issues and topics of importance to their sites as part of the application process. Based on the topics submitted by Marc and the SIF, Grand Canyon was selected as the host park for Marc's fellowship.  
During his eight weeks in the U.S., Marc has spent time shadowing, learning from staff and participating in the daily work of Grand Canyon's Environmental Education Branch, Division of Interpretation and Resource Education, Office of Planning and Compliance, Preventive Search and Rescue, Trail Crew, Division of Concessions Management and Division of Visitor and Resource Protection. He has also visited Canyon de Chelly National Monument, Hubbel Trading Post National Historic Site, Sunset Crater National Monument and NPS headquarters in Washington, DC.
According to both Jonathan Putnam and Jacob Fillion, Grand Canyon's Environmental Education Branch Chief and the park's coordinator of international programs and Sister Park relationships, programs like this one also provide benefits and learning opportunities to the host park and agency. Not only did park staff learn from the day to day exchange of ideas and methodologies, but Jean-Baptiste provided informational programs on the Seychelles WHS; and while in Washington, Marc met with representatives from the U.S. Department of State's Bureau of Oceans and International Environmental and Scientific Affairs and its Office ofUNESCO Affairs, as well as representatives from the NPS' Ocean and Coastal Resources Program.
 "I think Marc's time here has had a tremendous impact on us," comments Fillion. "His visit has raised awareness amongst our own staff of our importance as a World Heritage Site; and it has provided the park's management team with a sense of how much we have to offer visitors from other "park services". Even sites that protect extremely different resources face similar conservation challenges." 
What have Marc and the SIF gained? Marc says the entire experience has been educational, beneficial and thrilling both professionally and personally. "Professionally, the two most important things I have gained are a greater understanding of how to handle visitor pressures on resources, and of how much visitors expect – a lot," he grins, "and what it can take to meet those expectations. Personally, the U.S. has been a land of dreams for me. I always dreamed of stepping foot here; and I have been most impressed with the hospitality. This is a big country, but everyone has been so friendly!"  The smile he constantly wears makes it clear he has thoroughly enjoyed his time in the U.S.
For more information on the U.S. World Heritage Fellows program, please contact Stephen Morris, NPS Chief of International Affairs, at e-mail, or Jonathan Putnum at e-mail. To learn more about World Heritage Sites, go to http://whc.unesco.org/en/about/. To learn about Vallée de Mai, you can visit the Seychelles Islands Foundation at http://www.sif.sc/index.php. And to view a podcast about Marc and his Fellowship in Grand Canyon National Park, go to  https://www.nps.gov/grca/photosmultimedia/insider-look-51.htm.
-NPS-
Last updated: February 24, 2015