Grand Canyon Association Grant Supports Grand Canyon National Park's Vegetation Volunteer Program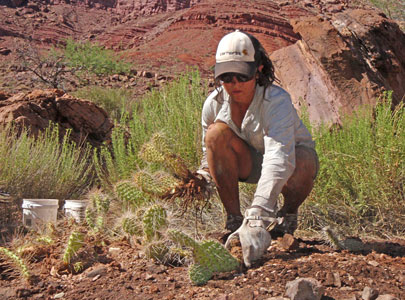 News Release Date:
September 17, 2010
Contact: Maureen Oltrogge, 928-638-7779
Contact: Lori Makarick, 928-638-7455
In April, the Grand Canyon National Park received a $70,000 grant from Grand Canyon Association, with funding provided by Nature Valley to the National Parks Conservation Association (NPCA) for native vegetation restoration. Specifically, the grant supports the Division of Science and Resource Management's efforts to protect, restore, and improve the park's native ecosystems by providing additional funding to support the vegetation volunteer program.
The park's native plant communities are impacted by construction projects, visitor use, and the invasion of nonnative plant species. Volunteers play an integral role in preserving the park's native vegetation by assisting with native seed collection and propagation, invasive plant removal, restoration projects, and the recovery program for Grand Canyon's only endangered plant species, sentry milk-vetch (Astragalus cremnophylax var. cremnophylax).
Martha Hahn, Chief of Science and Resource Management, said, "The funding will allow the park to expand the vegetation volunteer program so that we can complete native plant restoration and preservation work that we would not otherwise be able to accomplish. The fact that this grant is supporting a volunteer program is a perfect example of the park working with partners and volunteers to achieve the maximum possible benefit to the park."
Dorothy Lamm, who helped re-plant native vegetation near the new Desert View entrance station over Memorial Day weekend and collected seeds from native plant seeds and eradicated invasive plant species on the North Rim over Labor Day weekend, said, "Working with the vegetation program staff and other volunteers was fabulous on both weekends. The crew leaders were always well prepared, helpful, appreciative, knowledgeable, and enthusiastic. We had the best time and hope to volunteer again. I am so grateful for the funding for this valuable program."
The funding has allowed the Division of Science and Resource Management to hire two crew leaders for volunteer work crews and to provide logistical support for the volunteers, including providing meals during volunteer events. The grant has enabled the park to offer two additional vegetation volunteer events a month through this fall. During these events, volunteers assist park staff with a variety of restoration projects, including restoring native plant communities adjacent to construction zones near the Grand Canyon Visitor Center, restoring areas with high visitor use impacts, and removing invasive plant species.
Superintendent Steve Martin said, "Grand Canyon National Park greatly appreciates the grant from Grand Canyon Association, with funding supplied by NPCA and Nature Valley. This partnership, the service of volunteers, and the leadership provided by the vegetation program staff, is an excellent example of collaboration and stewardship to protect Grand Canyon. Since this partnership has been so successful to date, we hope that we can continue it in the future."
Grand Canyon Association is the national park's official fundraising partner. Grand Canyon Association Executive Director Susan Schroeder said, "We are proud to partner with the National Park Conservation Association and Nature Valley to protect the canyon's native vegetation and to financially support the park's efforts to preserve native ecosystems. With their help and other donor support, we can ensure that habitat at Grand Canyon National Park is preserved for future generations."
For more information, please contact Lori Makarick, Grand Canyon National Park, at 928-638-7455.
                                 -NPS-

Last updated: February 24, 2015