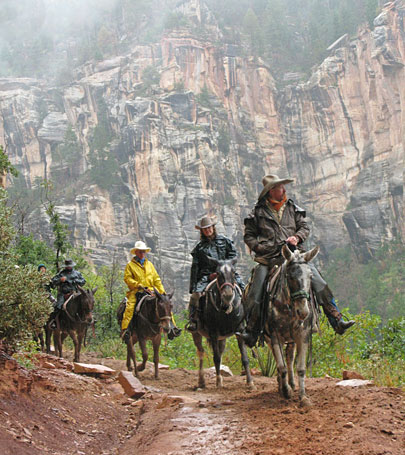 News Release Date:
May 6, 2010
Contact: Maureen Oltrogge, 928-638-7779
Contact: Laura Shearin, 928-638-7351
Grand Canyon, Ariz. – Grand Canyon National Park Superintendent Steve Martin today announced the award of a concession contract for guided trail rides using mules at the North Rim of Grand Canyon National Park to Mangum Enterprises, Inc., dba Grand Canyon Trail Rides-North Rim.  
This concession contract will be issued for a term of 10 years and will require guided daily trail rides at the North Rim from approximately May 15 to October 15, with specific opening and closing dates based on trail conditions. 
Routes and use levels authorized at the beginning of this new contract include:
·       Half-day rides to Supai Tunnel on the North Kaibab Trail. The concessioner will be limited to 40 clients per day on this route. 
·       One-hour rides on the Uncle Jim Trail along the rim.
·       Half-day rides on the Uncle Jim Trail loop, along the rim, limited to 40 clients per day.
"Grand Canyon Trail Rides has been providing guided mule trips on the North Rim of Grand Canyon National Park since 1984," stated Park Superintendent Steve Martin. "We have enjoyed our working relationship with the Mangum's – the service they provide has been enjoyed by many park visitors. We look forward to working with them again under this new contract."
The NPS is in the process of completing an environmental assessment for mule and stock use within Grand Canyon National Park. Among other things, this plan will determine the levels of commercial stock use appropriate for the North Kaibab Trail and Uncle Jim Trail. Based on the outcome of this plan, the NPS may alter the concessioner's authorized routes and levels of use along those routes during the term of the new concession contract. The plan is expected to be completed later this summer and can be found on line at https://parkplanning.nps.gov/grca. 
For additional information on the award of this contract, please contact Concessions Specialist Laura Shearin at (928)638-7351. 
Visitors can call Grand Canyon Trail Rides for reservations and information at (435) 679-8665. For information on the North Rim of Grand Canyon National Park please call (928) 638-7888 or log onto the park's Web site for the "North Rim Guide" at https://www.nps.gov/grca/parknews/upload/2010NRguide.pdf.
-NPS-