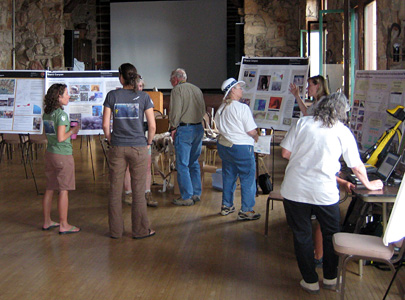 News Release Date:
July 18, 2011
Contact: Maureen Oltrogge, 928-638-7779
Contact: Allyson Mathis, 928-638-7923
Grand Canyon, Ariz. - Grand Canyon National Park's Division of Science and Resource Management will host a public open house on July 25 in the Grand Canyon Lodge Auditorium on the North Rim from 10 a.m. to 2 p.m. The Open House will include posters, archeological artifacts, and wildlife displays. Biologists, archeologists, physical scientists, GIS specialists and other staff members will be present to provide further information about their program and answer questions.
The Open House will give the public the opportunity to learn more about the critical role that Science and Resource Management plays in preserving and protecting Grand Canyon's natural, cultural, and experiential resources for the benefit of future generations. Martha Hahn, Chief of Science and Resource Management said, "The Open House will provide an opportunity for us to share unique aspects of our work. It also gives us the chance to interact with members of the North Rim community, public and park staff about the various resource disciplines."
Several programs will be highlighted in the Open House, including the park's native fish recovery efforts, threatened and endangered species management, exotic vegetation control, and air quality monitoring.
For additional information, please contact Allyson Mathis, Science and Education Outreach Coordinator, at 928-638-7923.
-NPS-