Man Rescued after Falling over Edge of Grand Canyon
Date:
August 5, 2010
Contact:
Shannan Marcak
, 928-638-7958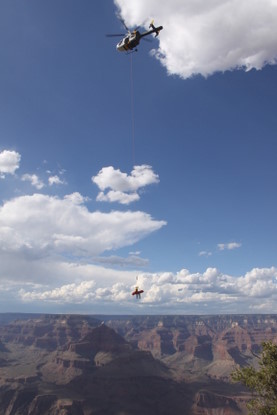 Grand Canyon, Ariz. – At approximately 2:45 p.m., the Grand Canyon Regional Communications Center received a report that a man had fallen over the edge near Mather Point on the South Rim of Grand Canyon National Park.
Upon arriving at the scene, park rangers spotted the man, conscious but in need of medical assistance, approximately 75 feet below the rim about ¼ mile east of Mather Point. According to witnesses, the man – an 18 year-old French national – slipped while taking pictures near the rim. 
Park ranger-paramedics rappelled down to the man's location in order to assess his injuries, stabilize him and prepare him for transport out of the canyon.
At approximately 4:15 p.m., the park helicopter lifted the man out of the canyon via short-haul operation (suspended below the helicopter) and transported him to the park helibase. He was then transported by ambulance to Flagstaff Medical Center where he is being treated for wrist, ankle and neck injuries.
The National Park Service would like to remind all Grand Canyon visitors that approaching the rim can be hazardous due to uneven terrain and loose rock. Visitors are strongly encouraged to stay on the paved Rim Trail which provides a safe vantage point from which to view and take pictures of the canyon. 
-NPS-
Last updated: February 24, 2015