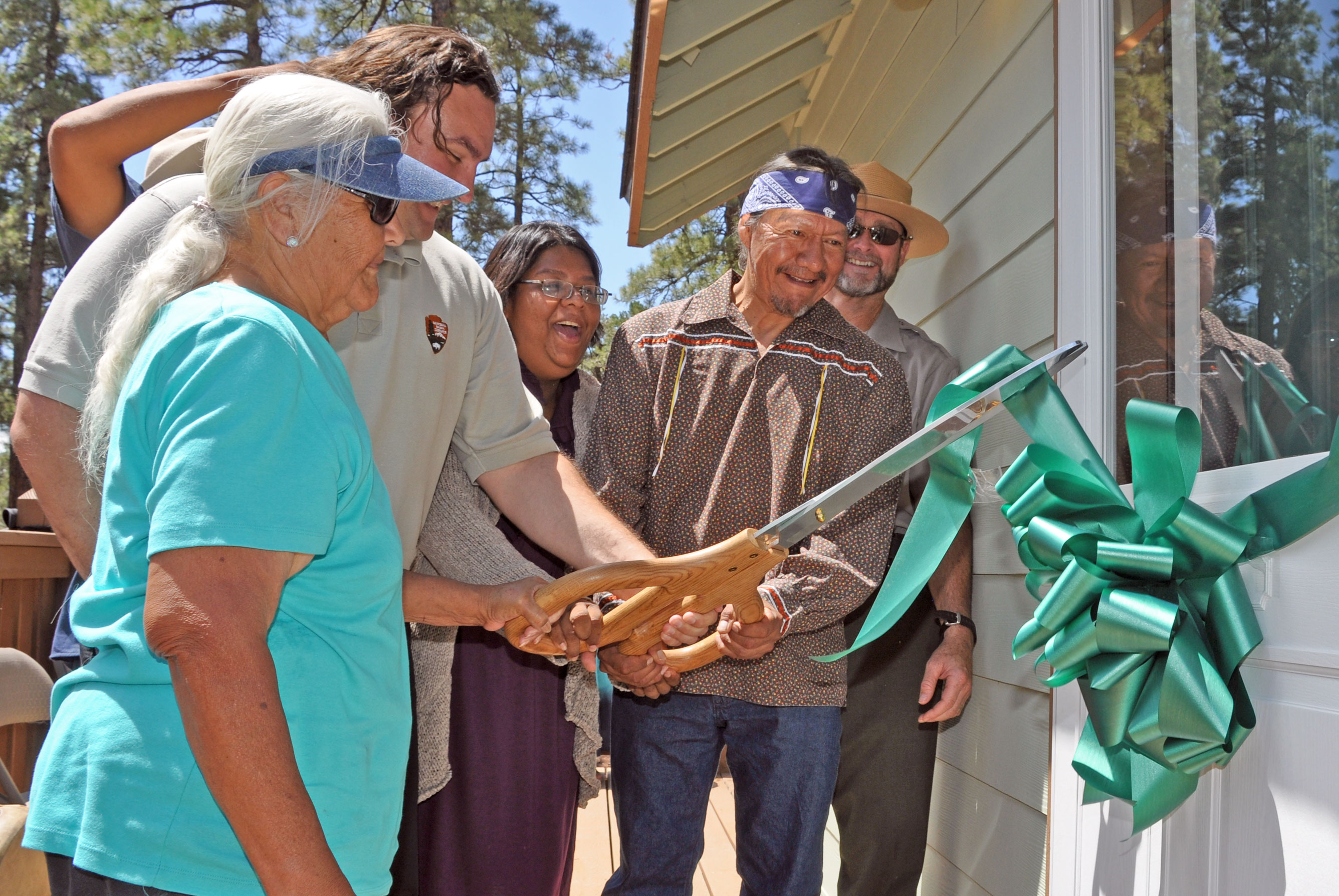 News Release Date:
August 5, 2010
Contact: Maureen Oltrogge, 928-638-7779
Contact: Phil Fessler, 928-638-7362
Grand Canyon, Ariz. – Under clear blue skies the National Park Service and Havasupai tribal members held a ribbon cutting ceremony today for newly constructed housing in Supai Camp located within Grand Canyon National Park. Funding for this project was made possible through the American Recovery and Reinvestment Act of 2009 (ARRA). Not only has this project improved housing for the tribe, it created jobs in local communities.
In the 1930s the National Park Service (NPS) constructed residences within the park at an area known as Supai Camp, and relocated Havasupai tribal members who had been living at Indian Garden and in the Grand Canyon Village area to those residences. The Havasupai people have used the area that now constitutes Grand Canyon National Park's South Rim for hundreds of years. This area is part of the Havasupai traditional homelands that once extended from Grand Canyon, south and west to Flagstaff and Williams, Arizona and beyond. The NPS, in developing Supai Camp, established a residential area for use of the Havasupai people to accommodate the tribes' customary pattern of seasonal living that was common prior to the establishment of Grand Canyon National Park, as well as to provide the tribe with access to the high school and employment opportunities in the park.
A General Agreement between the NPS and the Havasupai Tribe was developed to recognize the historic use and occupancy of Supai Camp by tribal members and to establish terms and conditions for occupancy by the tribe.
Prior to the start of the project to construct six new handicap accessible housing units, Supai Camp consisted of four historic cabins built in the 1930s, one community building-turned-residence that was constructed in the 1950s, and one community bathroom and laundry facility – referred to as a washeteria that was constructed in 1962, and upgraded in 1980.
The NPS had long been concerned about the living conditions at Supai Camp and had proposed infrastructure improvements through an environmental assessment that was issued in August 2009. The substandard conditions that existed at Supai Camp included the lack of indoor plumbing, unsafe and unhealthy housing conditions, shortage of housing opportunities, and poor road conditions. A decision document signed by the NPS Intermountain Regional Director approved the construction of the six new housing units, and installation of a new sewer and water line to connect Supai Camp to the park's wastewater treatment plant.  Additional projects approved in the decision document that are currently underway or planned as additional funding becomes available include the rehabilitation of five existing cabins and construction of up to 14 additional units.
In January 2010, the NPS awarded Modular Solutions, Ltd., from Phoenix, Ariz., a $1.2 million contract for the construction of the six new handicap accessible housing units that are part of today's ribbon cutting ceremony. These units were constructed off site in Phoenix then transported to Supai Camp and set up on permanent concrete foundations. The project also included construction of a new access road and parking, and the construction of new walkways and access ramps – the project was also recognized by Vice President Joe Biden last week during a visit to Grand Canyon National Park.
 "Through our partnership with the Havasupai Tribe we were able to provide adequate housing for tribal elders and families that live and work on the South Rim of Grand Canyon National Park," stated Park Superintendent, Steve Martin. "Funds allocated to the park through the American Recovery and Reinvestment Act provided us with the opportunity to complete this long standing and necessary project."
Many of the Havasupai Tribal members were at the ribbon cutting ceremony and reflected on growing up in the Grand Canyon and living in Supai Camp. Vice Chairman of the Havasupai Tribe, Edmund Tilousi, spoke about the less than ideal living conditions in Supai Camp that have existed over the last several decades – and thanked previous council members, park staff, and park Superintendent, Steve Martin for working together to build the new homes and thereby, improving the living conditions of those tribal members who live and work in Grand Canyon.
The American Recovery and Reinvestment Act passed earlier this year gave $3 billion to the Department of the Interior (Interior). Of that amount, the NPS received $750 million – approximately $18 million of which was directed to Grand Canyon National Park.
These ARRA funds are part of a stimulus package that is an important component of the President's plan to jumpstart the economy and put a down payment on addressing long-neglected challenges so the country can thrive in the 21st century. Under ARRA, Interior is making an investment in conserving American's timeless treasures – our stunning natural landscapes, our monuments to liberty, the icons of our culture and heritage – while helping American families and their communities prosper again. Interior is also focusing on renewable energy projects, the needs of American Indians, employing youth and promoting community service.
"With its investments of Recovery Act funds, the Department of the Interior and its bureaus are putting people to work today to make improvements that will benefit the environment and the region for many years to come," Secretary of the Interior Ken Salazar said. "This project will greatly benefit the Havasupai people who have called the Grand Canyon home for hundreds of years."
Secretary Salazar has pledged unprecedented levels of transparency and accountability in the implementation of Interior's economic recovery projects. The public will be able to follow the progress of each project on www.recovery.gov and on www.interior.gov/recovery. Grand Canyon projects can also be followed on www.nps.gov/grca/parkmgmt/arra.htm. Chris Henderson, who was appointed by Secretary Salazar to serve as Senior Advisor for Economic Recovery, continues to work closely with Interior's Inspector General to ensure the recovery program is meeting the high standards for accountability, responsibility, and transparency set by President Obama.
For additional information on the Supai Camp housing project, please contact Phil Fessler, Project Manager at 928-638-7362, or Maureen Oltrogge, Public Affairs Officer at 298-638-7779 or on line at e-mail us.
-NPS-