Celebration Draws Crowd and Provides Opportunity to Explore Improvements at Grand Canyon National Park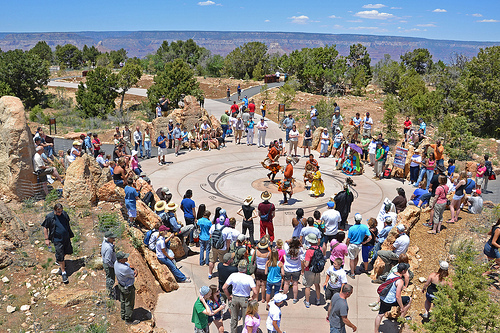 News Release Date:
June 21, 2011
Contact: Shannan Marcak, 928-638-7958
Grand Canyon, Ariz. – On Wednesday, June 15, Grand Canyon National celebrated the completion of two years of improvements to the Mather Point and Grand Canyon Visitor Center area, and hundreds showed up to join in the celebration.
The event took place from 11 a.m. to 2 p.m. and began with a celebratory gathering at the new Mather Point Amphitheater. Acting Superintendent Barclay Trimble was the Master of Ceremonies for the gathering which included a blessing by Dianna Sue and James Uqualla of the Havasupai Tribe; the reading of a letter from Senator McCain; and speeches by:
·   Steve Martin – former Superintendent, Grand Canyon National Park, now retired;
·   John Baxter – Associate Administrator for the Federal Lands Highway Program, Federal Highway Administration;
·   Renee Bahl – Executive Director, Arizona State Parks;
·   David Uberuaga – newly named Superintendent, Grand Canyon National Park; and
·   Barclay Trimble – Acting Superintendent, Grand Canyon National Park.
Following the celebratory gathering, an outdoor open house began and continued until 2 p.m. Information stations were available at key locations throughout the area and featured posters with before, during and after photos of the improvements. In addition, participants were treated to Native American dance performances, a special ranger program, showings of the park's new interpretive orientation film, photo opportunities with the park's mounted rangers, cake and activities just for kids.
The improvements, called for in the 2008 South Rim Visitor Transportation Plan, addressed many of the South Rim's most significant traffic congestion and parking issues and improved the experience of park visitors by:
·   creating an auto-free experience at Mather Point,
·   increasing access and parking at the Grand Canyon Visitor Center,
·   creating a rim side amphitheater and access for the mobility impaired at Mather Point,
·   adding a theater and developing an orientation film for the park's main visitor center,
·   building a centralized shuttle bus transit area at the Visitor Center plaza, and
·   adding interpretive elements to the plaza and along the walk to Mather Point that increase opportunities for visitors to learn about and connect to the cultural and natural history of the Grand Canyon.
Visitors enjoy a Native American dance performance at a new landmark feature that recognizes the park's traditionally associated tribes.                                        NPS Photo by Michael Quinn

Additional improvements to increase access to visitor information and alternative transportation continue in the Mather Point/Visitor Center area. Greenway III, stretching from the Visitor Center to the bordering town of Tusayan, will soon be completed. Construction on a permanent bike rental facility adjacent to the Visitor Center plaza will soon begin; and new interpretive exhibits are being installed in the Visitor Center this summer.
To view a collection of photos from the event, please go to  https://www.flickr.com/photos/grand_canyon_nps/sets/72157626978497086/. For photos of the improvements to the Mather Point/Visitor Center area, visit the park's Flickr page at https://www.flickr.com/photos/grand_canyon_nps/collections/72157624178259153/. To learn more about planning a trip to Grand Canyon National Park, please visit the park's web site at www.nps.gov/grca or call 928-638-7888.
-NPS-
Last updated: February 24, 2015