Rangers Employ Technical Rescue Techniques to Retrieve Body from Below Rim
Date:
May 6, 2011
Contact:
Shannan Marcak
, 928-638-7958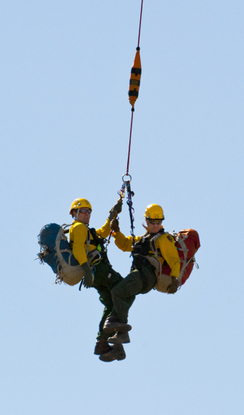 Grand Canyon, Ariz. – At approximately 10:45 a.m. today, rangers trieved the body of a young male from below the South Rim of Grand Canyon National Park.
The body was located almost 700 feet below the rim in the vicinity of the park's Headquarters Building in an extremely steep and narrow drainage. Due to the inaccessible nature of the location, rangers involved in the recovery had to work in stages.
First, a two-person recovery team was transported via short haul (hanging on a fixed line below a helicopter) to an insertion site approximately 75 feet above the fatality. Once at the insertion site, the recovery team established anchor systems and rappelled down to the location of the fatality. Once on location, rangers documented the scene and prepared the body for transport. The body was then retrieved via long-line operation (attached to a fixed line below a helicopter) and flown to the South Rim where it was met by the Coconino County Medical Examiner. The recovery team then climbed back to their insertion point, de-rigged their anchors and were flown back to the rim via short haul.
Completing the recovery operation took almost five hours and involved twenty five personnel.
The identity of the young man is not known at this time and will be determined by the Coconino County Medical Examiner.
An investigation into the incident is being conducted by the National Park Service with the assistance of the Coconino County Medical Examiner's Office.
Additional information will be provided as it becomes available.
-NPS-
Last updated: February 24, 2015