Grand Canyon to Celebrate Wildlife Day on Saturday, May 1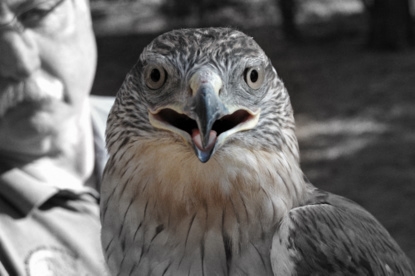 News Release Date:
April 15, 2010
Contact: Shannan Marcak, 928-638-7958
Grand Canyon, Ariz. – On Saturday, May 1, 2010, Grand Canyon National Park will host its third Celebrate Wildlife Day. The event, which began in 2008, is an opportunity for visitors to learn about the unique wildlife that inhabits Arizona and the Grand Canyon area, as well as the work of the wildlife biologists who study them.
This year's event will kick off on the evening of Friday, April 30 with a special program on "The Canyon's Lions" presented by park wildlife biologist Brandon Holton at 7:30 p.m. From 10:00 a.m. to 5:00 p.m. on Saturday, the Shrine will be converted to an exhibit hall with posters and interactive exhibits, educational demonstrations and live animals from the Adobe Mountain Wildlife Center in Phoenix, Arizona. Throughout the day on Saturday there will be both indoor programs, including talks on animal adaptations, owls, reptiles and amphibians; and outdoor programs, including telemetry and scat/track workshops and even an opportunity to dissect owl pellets! The day's activities will conclude with a wildlife skit by the students of the Grand Canyon School at 7:30 p.m. and a special program about "Condor Recovery at the Grand Canyon" presented by Chris Parish of the Peregrine Fund at 8:00 p.m.
All programs and activities will take place at the Shrine of the Ages. Visitors who wish to attend Celebrate Wildlife Day may walk along the rim from hotels in Grand Canyon Village (about 1.5 miles to the Shrine), take the Blue Route/Village Route shuttle, or park in Lot A.
Celebrate Wildlife Day is made possible through a partnership between the National Park Service, the Grand Canyon Association, Adobe Mountain Wildlife Center, the Arizona Game and Fish Department, Grand Canyon Unified School District, Leave No Trace Center of Outdoor Ethics, Xanterra Parks And Resorts, Grand Canyon Railway and Delaware North Companies Parks and Resorts.
For a copy of the event schedule or to learn more about Celebrate Wildlife Day, please visit the park's website at www.nps.gov/grca/naturescience/wildlife-day.htm or call Park Ranger Lori Rome at 928-638-7783.
-NPS-
Last updated: February 24, 2015