Grand Canyon Achieves Milestone in Recovery of Endangered Plant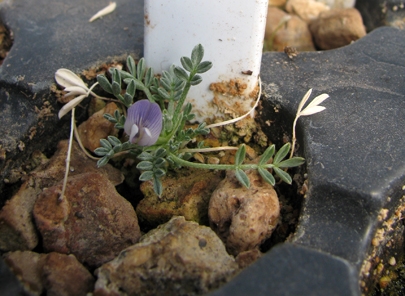 News Release Date:
March 24, 2010
Contact: Shannan Marcak, 928-638-7958
Grand Canyon, Ariz. -- Grand Canyon National Park's greenhouse population of sentry milk-vetch (Astragalus cremnophylax var. cremnophylax) began blooming in early March 2010, representing a major landmark in the park's effort to recover its only federally-listed, endangered plant species.                              
The greenhouse, or ex situ, population was established in 2009 to produce seed and plants for recovery efforts in the wild. There are currently 94 sentry milk-vetch plants in the greenhouse and they were grown from seed hand-collected from the wild. In 2009, the park also built a passive solar greenhouse for propagation and seed production of sentry milk-vetch plants. The greenhouse was funded by the U.S. Fish and Wildlife Service through Grand Canyon Association, Grand Canyon National Park's official fund-raising partner.
Sentry milk-vetch only grows in three locations in shallow soil pockets atop the highly porous Kaibab Limestone near the rim of Grand Canyon. The plant was listed as endangered in 1990; and there were only 1125 plants known to exist in the wild in 2009. According to the 2006 Sentry Milk-vetch Recovery Plan, the plant will be considered recovered when there are eight stable populations of 1,000 plants each. The species will be eligible for downlisting when there are four stable populations of 1,000 plants each.
Plants in Grand Canyon's native plant nursery form the second ex situ population of sentry milk-vetch. The first was established at the Arboretum at Flagstaff, one of the partners in the sentry milk-vetch recovery program. Park scientists have worked closely with the Arboretum's Research Scientist Dr. Kristin Haskins and Research Botanist Sheila Murray to incorporate their wealth of knowledge and experience into the Grand Canyon's successful effort.
Park Horticulturalist Janice Busco, who is leading the park's sentry milk-vetch recovery efforts, said, "Seed availability has been one of the limiting factors for recovery efforts, so it is an important breakthrough that we already have little sentry milk-vetch plants thriving andblooming in our greenhouse population that was started just last year. We will be pollinating the plants by hand, using techniques developed by the Arboretum at Flagstaff. As the seeds set, we will collect them for use in reintroduction trials at a restoration site near Maricopa Point starting in 2011."
The largest population of sentry milk-vetch exists near Maricopa Point on the South Rim's Hermit Road. In 2008, the National Park Service removed a parking lot there to provide additional habitat for sentry milk-vetch plants. This summer, the park's Vegetation Program will begin a complex site restoration program in a portion of the former Maricopa Point parking lot to recreate the unique topography and habitat that this plant requires. In 2011, the park plans to begin experimental plantings of sentry milk-vetch plants and seeds produced in the park's native plant nursery.
Vegetation Program Manager Lori Makarick said, "I was so excited when I first learned that plants in our greenhouse population were already blooming. This important event is a huge credit to Janice Busco and Student Conservation Association Plant Conservation intern Emily Douglas, who have worked so hard to start the greenhouse population and to tend these tiny plants. I look forward to seeing how successful these plants are in producing seed after they are hand-pollinated, and then being able to move forward from there with our recovery program."
Martha Hahn, Chief of Science and Resource Management said, "It is heartening to me to think of these plants flowering in the greenhouse while we've been having these late snow storms in early March. The blooms on these plants are indeed a milestone in the recovery effort for this species, much akin to the start of breeding behaviors in a captive population of endangered animals."
For more information, please contact Janice Busco, Horticulturalist, at 928-638-7782, or Lori Makarick, Vegetation Program Manager, at 928-638-7455. Additional information on Grand Canyon National Park's sentry milk-vetch recovery actions is available online at https://www.nps.gov/grca/naturescience/cynsk-v16.htm.
-NPS-
Last updated: February 24, 2015