Youth Photography from Grand Canyon in Focus Program on Display at Historic Williams Depot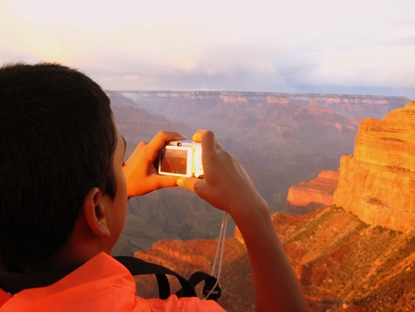 News Release Date:
December 18, 2009
Contact: Shannan Marcak, 928-638-7958
Grand Canyon, Ariz. – A new exhibit is on display at Williams' historic train depot; and the eye-catching photographs were all taken by Arizona youth. The exhibit, which opened to the public on Friday, December 11, 2009, consists of 19 photographs taken by ten middle-school youth. 
The young photographers captured their images during Grand Canyon National Park's first Grand Canyon in Focus—a week-long camp intended to inspire a passion for the outdoors and national parks and to build character through teamwork and stewardship.  The program is an extension of the Morris K. and Stewart L. Udall Foundation (Udall Foundation) Parks in Focus program.
During the camp, ten Tucson-area Boys and Girls Club members camped under the stars, learned about photography, cooked their own meals and hiked spectacular trails, discovering the wonders of Grand Canyon National Park along the way. For many participants, the program was their first exposure to the natural treasures of Arizona and their first camping trip!
In addition to exploring and working together, each participant received a camera that was his or hers to keep; and professional photographer Gary Ladd joined camp leaders to provide hands-on training in the art of photography.
Grand Canyon in Focus will be offered again in 2010 and will be open to both Tucson and Phoenix area Boys and Girls Club members. Photos from future In Focus camps will be shown each year in a traveling exhibit featuring art and photography from all of the park's camp programs.
Grand Canyon Railway generously offered to host this exhibit through January 9, 2010. The exhibit will be available from 5:30 p.m. to 10:00 p.m. daily from now through January 3, except for Christmas Day, New Year's Eve and New Year's Day. The exhibit will be available two additional days before it closes: January 8 and 9, 2010.
Grand Canyon in Focus is a partnership between the National Park Service, the Udall Foundation and Boys & Girls Clubs of Tucson.  The program was made possible by a grant from the National park Foundation through the generous support of the Evelyn and Walter Haas Jr. Fund and the Popplestone Foundation.
For more information on the Grand Canyon In Focus program, please call Megan Kohli at
928-638-7683 or visit the park's youth-camp information page at www.nps.gov/grca/forkids/camp.htm. For more on Boys and Girls Clubs of America, please go to www.bgca.org; and to learn more about the Udall Foundation and Parks in Focus, go to pif.udall.gov.
-NPS-
Last updated: February 24, 2015