Grand Canyon's GOAL Program Develops Leaders, Generates Excellence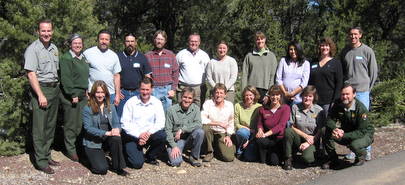 News Release Date:
February 25, 2009
Contact: Shannan Marcak, 928-638-7958
Grand Canyon, AZ. – During her recent visit to the Department of Interior, First Lady Michelle Obama spoke of taking the department into "a new era of excellence." At Grand Canyon National Park, the staff is ushering in its own era of excellence with the introduction of the park's new Generating Organizational Advancement and Leadership or "GOAL" program.
"Most people want and strive to be excellent," says GOAL Program Manager Raquel Romero. "They just need an environment that fosters their desire for excellence and allows them to be their best." That is the philosophy that led Ms. Romero to apply for the position of Grand Canyon Program Manager for Leadership and Organizational Development when it was announced in April of 2008. Park management developed the position because they wanted to create a culture of employee growth and development.
Romero says that Park Superintendent Steve Martin has a vision of developing not only the managers and supervisors of the future, but the leaders, as well: and that, like her, he believes that parks and agencies that focus on employee development will be able to model excellence and achieve their goals. Achieving goals is critical in an agency that is often asked to quantify its achievements in order to provide accountability. Just as important, modeling excellence sets a firm foundation for achieving the National Park Service's goal of becoming one of the ten top agencies for employee satisfaction within the next ten years.
After months of studying the service-wide vision for employee development and acquiring feedback and ideas during focus groups and meetings with Grand Canyon employees at all levels of the organization, Romero developed the framework for a program that will provide opportunities for the cultivation of ten leadership skills or competencies judged by the park's management team to be critical to successfully achieving park goals. Those ten core competencies are team building, interpersonal skills, self-awareness, conflict management, resiliency, change management, decision making, financial management, political savvy, entrepreneurship, and ethics.
In order to provide learning opportunities to all of the park's more than 450 employees (an expectation of the program), a three tiered strategy was developed. The first tier, intended to reach everyone, provides two workshops/seminars each year and a library of articles and other learning materials available to any park employee regardless of job or pay grade. The upper tier, intended for people already in management and supervisory positions, provides additional workshops to develop a supervisor's ability to help his or her employees assess their career aspirations and development needs and attain those aspirations. Finally, because the park's management team identified mid-level employees as those most likely to advance into management and leadership positions in the near future, the middle tier is the GOAL Academy, which was developed to provide monthly small-group training and discussion opportunities for in-depth exploration of the ten core competencies over the course of a year.
Park Superintendent Steve Martin says of GOAL, "With this new program, we will be working to instill a leadership attitude in all of our employees."
This year's GOAL Academy, the park's first, is already underway. Twenty-five park employees (and even some employees from nearby park units) applied to participate in the program, providing a strong indication that employees already view GOAL as relevant and professionally valuable. Given the caliber of the applications, this year's sixteen participants (fifteen from Grand Canyon National Park and one from Navajo National Monument) should be commended for being accepted to the Academy. Congratulations go out to: Angela Boyers-Pearson, Robert Dauphinais, Pete Fonken, Arthur Gonzales, Chris Marks and Liz Yee of the Division of Visitor and Resource Protection; Dirk Chilcote of the Division of Administration; Brian Gatlin, Andy Pearce and David Smith of the Division of Interpretation; J.D. Gonzales and Dawn O'Sickey of the Division of Facility Management; Kirstin Heins of the Division of Science and Resource Management; Robin Martin of the Division of Concessions Management; Denice Swanke of the Office of Planning and Compliance; and Curlinda Holiday of Navajo National Monument's Division of Interpretation.
For more information on the GOAL program, please, contact Grand Canyon National Park's Program Manager for Leadership and Organizational Development, Raquel Romero at e-mail us or at 928-226-0102.
-NPS-
Last updated: December 20, 2017