Rangers Free Boats Stranded at Crystal Rapid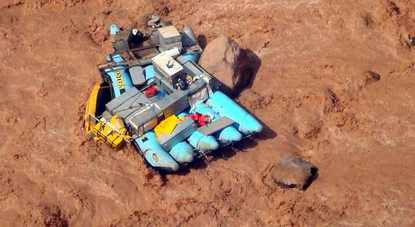 News Release Date:
August 10, 2010
Contact: Shannan Marcak, 928-638-7958
Grand Canyon, Ariz. – At approximately 4:00 p.m. on Monday, August 9, rangers freed the second of two boats which became stranded over the weekend at Crystal Rapid on the Colorado River in Grand Canyon National Park.
On Friday, August 6 shortly after 3:00 p.m., the Grand Canyon Regional Communications Center received a report of a boat stuck on the rock garden at Crystal Rapid.
River and search and rescue rangers and the park's inflatable Zodiac were flown by helicopter to a nearby beach where it was determined that one of two motorized rafts in a Western River Expeditions (Western) boat trip had become stranded at the top of the rock garden at Crystal Rapid.  The Zodiac was deployed to rescue the boat's passengers; and by 8:00 p.m., the 16 passengers and crew had been transported to shore where they set up camp. The other raft in the party continued on to Lower Tuna.
The following morning, an Outdoors Unlimited oar-powered raft became stranded at the same location as rescuers were attempting retrieval of the Western raft.   Rescuers already on the scene quickly rescued the boat's operator and transported her to shore, where she rejoined the Outdoors Unlimited trip. 
On Saturday, a separate Western river trip passed through the area and picked up half of the passengers from the stranded boat on the original trip. On Sunday, a raft sent by Western to take the place of the stranded raft arrived at Crystal Rapid, resupplied the Outdoors Unlimited trip which had lost gear when its boat flipped, then picked up the remaining passengers and crew from the original Western trip so that they could continue down the river and rejoin the rest of their group.
Once resupplied, the Outdoors Unlimited trip also continued down the river. Their boat was freed late in the day on Sunday and tied to shore downriver of the rapid so that Outdoors Unlimited could retrieve it at a later date.
Yesterday at approximately 4:00 p.m., after unloading and partially de-rigging the raft to lighten its load, rangers were able to free the Western raft which will be reloaded and rigged and continue downstream to the take out at Pearce Ferry.  Final operations and clean up at Crystal Rapid are expected to be completed by the end of the day today.
No injuries to either boating party were reported.
-NPS-
Last updated: February 24, 2015