Greening of Grand Canyon: Sustainability Practices
Green is Grand!
Grand Canyon National Park is committed to reducing its impact on the environment by implementing sustainable practices and projects that decrease greenhouse gas emissions, conserve water, increase recycling, and use alternative energy and fuels.
What We Are Doing
Grand Canyon has many sustainable practices in place, including an aggressive recycling program in both public and residential areas within the park, a water reclamation facility that converts wastewater into water safe to use for irrigation and toilets, a composting program for mule waste from NPS and concessionaire operations, and a shuttle bus fleet that runs on clean-burning compressed natural gas. In addition, all recently constructed buildings in the park meet LEED (Leadership in Energy and Environmental Design) standards; and all future construction will be designed to achieve the highest possible LEED ratings.
Grand Canyon is now a Climate Friendly Park!
In 2010, Grand Canyon National Park's Climate Action Plan was approved, completing the final step necessary for the park to become a Climate Friendly Park.
Climate Friendly Parks (CFP) have made a commitment to become environmental leaders by lowering their greenhouse gas emissions and teaching others how to limit their own impacts on the environment.
Park staff started the process of becoming a Climate Friendly Park by submitting an application and conducting a greenhouse gas (GHG) inventory. That inventory used 2008 emissions data to set the baseline against which all of the park's future GHG emissions will be judged.
Next, the park hosted a CFP workshop, bringing together park staff, partners and stakeholders to explore the anticipated impacts of regional climate change; share information on existing, climate friendly initiatives in the park and local area; and collaboratively build a vision of a greener Grand Canyon, creating the foundation for the park's Climate Action Plan.
The Climate Action Plan outlines the steps park staff, partners and residents have committed to take to reduce waste and to improve the management of energy, water and transportation, in order to reduce park GHG emissions. Grand Canyon's Climate Action Plan includes implementation of a structured green office program, development of a South Rim composting program, gradual conversion to solar water heaters in NPS residences, and exploring alternative energy sources for various locations in the park. All action items within the plan are intended to move the park toward its overall goal of a 30 percent reduction in GHG emissions by the year 2020.
---

Grand Canyon Visitor Center has Gone Solar!
In May 2009, APS (Arizona Public Services), the largest utility company in Arizona, worked with the park to install 84 photovoltaic cells at Grand Canyon Visitor Center. The 18 kilowatt system offsets 30% of the power used in the building. The energy saved is more than a normal household would consume in a day and reduces greenhouse gas emissions by almost 20 tons per year. Additional photovoltaic cells were also included on the theater that was recently added to the Visitor Center.
---
Environmental Commitment Statement
Grand Canyon National Park is committed to environmental stewardship and sustainable management. This policy supports our commitment to the mission of the National Park Service which "preserves unimpaired the natural and cultural resources and values of the national park system for the enjoyment, education, and inspiration of this and future generations." Park staff demonstrates this commitment by:
seeking continuous improvement to meet environmental management objectives and enhance our environmental performance;

conducting operations and activities in an environmentally sound manner, effectively and efficiently complying with the letter, spirit, and intent of all applicable environmental laws and policies;

preventing pollution by implementing hazardous materials and Green Purchasing programs;

communicating and educating staff, partners, and visitors about our environmental policies and practices; and

addressing climate change by reducing our greenhouse gas emissions.
---
What You Can Do
Check out the links below for suggestions on simple things you can do to help protect the park and show that you, too, think "Green is Grand!"
Refill your water bottles!
Did you know that you can reduce plastics in the waste stream, litter along trails and walkways and greenhouse gas emissions just by refilling a reusable water bottle? Go to Grand Canyon's Reduce, Reuse, Refill page to learn more.
Travel Green!
It's a great way to help the Grand Canyon and the environment. Go to the Traveling Green page for helpful tips on planning your next green adventure.
Reduce, Reuse, Recycle!
Thanks for doing what you can to help protect Grand Canyon National Park!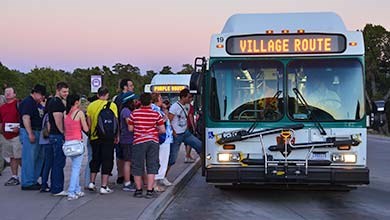 Quick links to information about:
Last updated: November 20, 2018