How to Apply for a CUA
Important Information:
On February 25, 2022, the Centers for Disease Control and Prevention (CDC) updated the guidance that informs DOI and NPS policies on public health mitigations for COVID-19.  These changes reflect the progress that our country has made in fighting the virus: safe and effective vaccines are widely available, treatment options are improving, and testing and masks are easier to find.  
As of Thursday, March 3, masks are no longer required in either indoor or outdoor locations, both for the public and federal employees while the local community level remains in either low or medium (for Grand Canyon Village and the North Rim excluding Tuweep this is Coconino County).  Please note that this standard is flexible depending on conditions in Coconino County.  It is possible that we may return to a mask requirement under this guidance if conditions in Coconino County returns to a high condition.  We all need to be prepared to be flexible under this new system. 
Masks are still required on all public transportation, including park shuttle buses.  This is guidance driven by the Department of Transportation.  We will inform you of any changes to this requirement as we learn it. 
Building occupancy levels, physical distancing, vaccination status, and other COVID precautions have not been addressed in guidance to date. We will inform you on any changes in these areas as the evolve. 
Visitors and employees are always welcome to wear a mask if it makes them more comfortable.  
Updates on local community levels for Coconino County will be posted and updated on the Park Operations Update webpage under the 'Alerts' section.  This information will be updated weekly on Thursdays by the CDC, and we should remain flexible and be ready to shift back into a mask mandate posture with little notice.  
New guidance around masking is changing rapidly across the country, the DOI, and the NPS.  We will keep employees, our stakeholders, and the public informed of any new developments as soon as they become available. 
If conditions change, Grand Canyon National Park reserves the right to change these parameters or other operational conditions immediately. Please understand the Park will make every effort to communicate the need for the change in a timely manner; however, depending on conditions, immediate action may be necessary.
Please e-mail us at the Permits Office with any questions.
On April 27, 2021, President Biden signed Executive Order 14026 - Increasing the Minimum Wage for Federal Contractors (EO 14026).  EO 14026, as of January 30, 2022, revokes Executive Order 13838 - Exemption from Executive Order 13658 for Recreational Services on Federal Lands, and raises the hourly minimum wage to $15.00 for any covered CUA awarded on or after January 30, 2022. CUAs awarded prior to January 30, 2022 are subject to Executive Order 13658 – Establishing a Minimum Wage for Contractors (EO 13658).
For CUAs awarded prior to January 30, 2022:  CUA Condition #15 is now:
Minimum Wage:  The holder is required to adhere to Executive Order 13658 – Establishing a Minimum Wage for Contractors, as applicable. The implementing regulations, including the applicable authorization clause, are incorporated by reference into this contract as if fully set forth in this contract and available at Federal Register :: Establishing a Minimum Wage for Contractors.
Exemption:  Under Executive Order 13838, Executive Order 13658 shall not apply to contracts or contract-like instruments entered into with the Federal Government in connection with seasonal recreational services or seasonal recreational equipment rental for the general public on Federal lands, but this exemption shall not apply to lodging and food services associated with seasonal recreational services. Seasonal recreational services include river running, hunting, fishing, horseback riding, camping, mountaineering activities, recreational ski services, and youth camps. Executive Order 14026 revokes this exemption as of January 30, 2022.  
 
For CUAs awarded on or after January 30, 2022: CUA Condition #15 will be:
Minimum Wage: The holder must comply with all provisions of Executive Order 14026 of April 27, 2021, (Increasing the Minimum Wage for Federal Contractors) and its implementing regulations, including the applicable contract clause, codified at 29 C.F.R. part 23, all of which are incorporated by reference into this authorization as if fully set forth in this authorization. 
CUA Application Instructions
Please review the CUA Handbook and see the information below for CUA forms and application instructions.
As the COVID-19 pandemic runs its course, operational conditions within the park are subject to change. This could include closures, changes in operational hours, availability of facilities, suspension, or further modification of CUA activities, etc. We will notify all CUA holders of any changes in operations via email.
Things to know:
Make sure to apply 4 weeks before your first trip/event. Expect your permit to be ready approximately 30 days from when you submit a complete application packet.
Download the forms onto your computer.

Please be sure to fill in ALL the fields in your application forms. All forms must be typed for legibility.
Forms are fillable in an Adobe PDF format. The easiest way to fill out the forms is to download the forms onto your computer, fill out the form and click on the signature field (with the red arrow) to sign it. Email the forms back to us as PDF documents at grca_permits_mail@nps.gov
Use the Subject Line format: "[Company Name dba Name] 2022 CUA Application"

One of the best ways to get your CUA issued in a timely manner is under your control: read directions carefully and submit a complete application packet as PDF documents via email. Incomplete packets will not be processed until complete.
Applications cannot be expedited. We receive hundreds of applications each year. We process complete applications in the order they are received.
CUAs are valid for the calendar year only. Companies will need to reapply each year. No renewal reminders are sent. Please refer to this website for any relevant updates.
A copy of the issued CUA must be in company vehicles at all times when operating inside the park.
A copy of the issued CUA must be presented to the entrance station staff upon entry into the park.
A Complete CUA Application Must Include:
What happens once I turn in my application?
You will receive an email letting you know we received your application. If you do not receive this email, please send your documents again. A staff member will check the documents for completeness in the next week and either place them in the queue for processing OR send you an email requesting missing information. Expect a permit to be processed anywhere from two to four weeks after the application packet is complete. We will send you the signed CUA via email and ask you to print out a copy to keep with your tour group when you enter the park. Please read the conditions of the permit carefully before entering the park.

Note: Applications are processed in the order in which they are received. Incomplete applications are not placed in the queue until they are complete. No expedited applications; no exceptions.
Management Fee
CUA holders will be charged a reasonable fee to ensure program cost recovery and for the identifiable economic privileges received from conducting business inside Grand Canyon National Park. Reasonable fees will be based on a percentage of gross receipts (Management Fee). An automatic Market Price fee calculator (see table below) is used to determine the Management Fee. Because the $300 Application Fee acts as a credit toward the percentage of gross receipts (Management Fee), operators grossing amounts less than $10,000 will not owe additional fees (3% of $10,000=$300) unless other actions of the operator necessitate further cost recovery.

The Management Fee is due by March 31st annually (for the prior operating year). The Annual Report, which determines the Management Fee due through the required reporting of gross receipts, is due by January 31st annually (for the prior operating year). The $300.00 Application Fee is credited towards the Management Fee, which is calculated as follows:
Management Fee Calculator based on Market Price

| Gross Reciept Amount | Percentage Management Fee Payment |
| --- | --- |
| $0.01 - $250,000.00 | 3% of gross receipts |
| $250,000.01 - $500,000.00 | 4% of gross receipts in addition to the prior amount |
| Over $500,000.01 | 5% of total gross receipts in addition to the prior amounts |
In order to collect the Management Fee for applicable 2021 CUA holders, the permits office needs first to review your submitted Annual Report. The Annual Report is due January 31, 2022. After reviewing each CUA holder's Annual Report, the permits office will send a separate email with the Market Price Calculator. CUA holders will use this calculator to confirm the total CUA fees due (gross receipts earned minus the application fee). This payment process will be through Pay.gov and is separate from current application fees.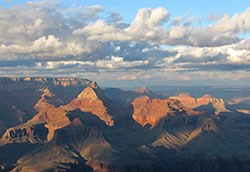 Submitting your CUA application packet
Preferred method:
Email your complete application packet in PDF format to grca_permits_mail@nps.gov
Please format the email subject line as: "[Company Name dba Name] 2022 CUA Application" (ex: Grand Canyon Tour Company dba GC Tours 2022 CUA Application)

You may also mail the complete application packet (which takes more time to process) to:
Grand Canyon National Park
Attn: Commercial Services
PO Box 129 (USPS)
3 Camper Services (UPS, FedEx, etc.)
Grand Canyon, AZ 86023
We highly recommend that you email your complete application packet. This reduces wait time and allows us to better track your application. Please wait at least two weeks before checking your permit status. We experience a high volume of applicants, over 700 a year, and cannot give companies individual attention. We recommend you submit your complete application by November 22 if you plan on operating in the park in January. Complete applications are processed in four weeks on average. No applications can be expedited. There are no exceptions.

Thank you for your interest in operating tours in Grand Canyon National Park. Questions? e-mail us or call 928-638-7707. Please note that this phone takes messages only; there is no live person who answers this phone. Leave a detailed message with your email address that is clearly enunciated so we can research your queries and return your call. For faster response times, please email.
Additional Information
Backcountry Camping Permits for Overnight Backpacking Operators
In addition to the CUA, Backpacking CUA holders are required to obtain all necessary backcountry camping permits from the Backcountry Information Center. Find more information about Backpacking Permits on the Backcountry Permits page.
Commercial Entrance Fees
Find more information about Commecial Entrace Fees on the Entrance Fees - Commercial Tours page.



PDF Display or Printing Issues?
Using a web browser to view and print our PDF forms and publications? You may experience issues where the PDF does not display or print correctly. Some web browsers do not automatically open PDFs using the Acrobat Reader application.
Things to try
(1) Select the Acrobat Reader plug-in for your browser's default application for viewing/ printing PDFs. or (2) You can right click and save the PDF document to your desktop and then open it with the Adobe Reader application, and print from there.
Get the newest version of free Adobe Reader.
Last updated: March 31, 2022