How to Apply for a CUA
CUA Program Updates
New guidance is in place for COVID mitigations amid the nation-wide surge in cases.
Outdoor mask zones have been identified for all people regardless of vaccination status. These are the same zones that previously required mask-wearing for unvaccinated people due to the crowded nature of the area and the inability to effectively socially distance.

The outdoor zones where masks are now required for all people regardless of vaccination status include:
All entrance stations

All bus stops

South Rim: Mather Point, Hopi Point, Grand Canyon Visitor Center Plaza and trails north to the rim, Desert View north of the parking lot, Rim Trail from Verkamps Visitor Center to the Bright Angel Trailhead.

North Rim: Bright Angel Point, Cape Royal, and Point Imperial (including access trails), trails and viewpoints around the North Rim Lodge and North Rim Visitor Center, North Kaibab trailhead and parking lot.
New NPS guidance requires masking in these areas regardless of community transmission levels because transmission levels are high across the country and we have people coming here from many locations.

As a reminder, masks are required in all NPS buildings and on all forms of enclosed public transportation, regardless of location, vaccination status, or level of community transmission.

Additionally, masks must be worn in outdoors spaces where physical distancing cannot be maintained, such as narrow or busy trails and overlooks.
Continued COVID-19 mitigations other CDC recommendations should also be followed.

Operators are independently responsible for understanding and complying with the most current applicable laws, regulations, orders, ordinances and other requirements and for conducting their operations in a manner that is safe and protects the health of employees, customers and the public.

Please see the links below about COVID-19 guidance for multi-day road-based tours and transportation system operations. The guidance is based on current information.
If conditions change, Grand Canyon National Park reserves the right to change these parameters or other operational conditions immediately. Please understand the Park will make every effort to communicate the need for the change in a timely manner; however, depending on conditions, immediate action may be necessary.
Please e-mail us at the Permits Office with any questions.
As the COVID-19 pandemic runs its course, operational conditions within the park are subject to change. This could include closures, changes in operational hours, availability of facilities, suspension, or further modification of CUA activities, etc. We will notify all CUA holders of any changes in operations via email.
Things to know:
Each CUA applicant will be required to have their COVID-19 Mitigation Plan and the CUA permit in the vehicle at all times when operating inside the park and available upon request.
Make sure to apply 4 weeks before your first trip/event. Expect your permit to be ready approximately 30 days from when you submit a complete packet.
Please be sure to fill in ALL the fields in your application forms. All forms must be typed for legibility.
One of the best ways to get a permit quickly is under your control: read directions carefully and present us with a complete packet. Incomplete packets will not be processed until complete.
Applications cannot be expedited. We receive hundreds of applications each year, especially in winter and spring, and process complete applications in the order they are received.
CUAs are valid for the calendar year only. Companies will need to reapply each year. No renewal reminders are sent. Please refer to this website for any relevant updates.
A complete application packet must include:
The general Application Form 10-550, typed and filled out completely. Remember to list all additional names, doing business as (DBA), under which you will operate. Electronic signatures with an automatically generated time/date stamp are accepted on all forms.
COVID-19 Mitigation Plan. Attachment C of Application Form 10-550.
At least one specific 10-115 form (typed). Please choose the 10-115 for each service you wish to provide. You must submit all pages of the form, not just the signature pages. Note: you will be asked to redo your application if it is not typed, causing a delay in processing your application.
Application Fee: The amount is determined by which activities you will be conducting in the park. Please see Attachment B in the general application form 10-550 for this year's rates. Payment may be made online through pay.gov; instructions can be found in the general application. Please note that we do not refund for overpayment.
Certificate of Insurance from your insurance agent for the required amounts (see Attachment A of Application Form 10-550). We prefer the ACORD format. Commercial General Liability is required. Based on the commercial activity, your company may also be required to purchase Commercial Automobile Liability. Your insurance must name United States of America as additionally insured, for example:
The United States of America
Grand Canyon National Park
PO Box 129
Grand Canyon, Arizona 86023


Annual Report for the previous year (2020) if you were issued a CUA: Annual Report 10-660 Do not leave any information blank.

The 2020 Annual Report is due on January 31, 2021

. You must submit an Annual Report for each CUA that you have been issued in 2020 - even if you did not conduct any tours in the Park. If we do not receive your annual report by the due date, your 2021 CUA may be suspended until we receive your Annual Report. Do NOT send your market price payment with the annual report. 2020 rates are full percentage market price and will be calculated after we receive your annual report.
The Annual Report for 2021 is now available. If your operating season is complete, please submit your 2021 Annual Report at your convenience. The 2021 Annual Report is due on January 31, 2022.
MARKET PRICE FEES:
In order to collect the Market Price Management Fee for applicable 2020 CUA holders, the permits office needs first to review your submitted Annual Report. The Annual Report is due January 31 of the next year. After reviewing each CUA holder's Annual Report, the permits office will send a separate email with the Market Price Calculator. CUA holders will use this calculator to confirm the total CUA fees due (gross reciepts earned minus the application fee). This payment process will be through Pay.gov and is separate from current application fees.

Note: Applications are processed in the order in which they are received. Incomplete applications are not placed in the queue until they are complete. No expedited applications; no exceptions.
What happens once I turn in my application?
You will receive an automated email letting you know we received your application. If you do not receive this email, please send your documents again. A staff member will check the documents for completeness in the next week and either place them in the queue OR send you an email requesting missing pieces. Expect a permit to be processed anywhere from two to four weeks after the application packet is complete. We will send you the permit via email and ask you to print it out and keep it with your tour group when you enter the park. Please read the conditions of the permit carefully before your trip(s).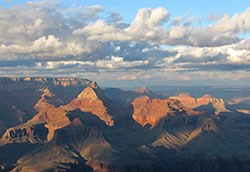 Submitting your CUA application packet:
Email your complete application packet in PDF format to: grca_permits_mail@nps.gov
You may also mail the complete application packet to:
Grand Canyon National Park
Attn: Commercial Services
PO Box 129 (USPS)
3 Camper Services (UPS, FedEx, etc.)
Grand Canyon, AZ 86023
We highly recommend that you email your complete application packet. This reduces wait time and allows us to better track your case. Once submitted, you will receive an automated message. Please wait at least two weeks before checking your permit status. We experience a high volume of applicants, over 700 a year, and cannot give companies individual attention. Peak periods are October through December and again in February and March. We recommend you get your complete application in as early as possible, especially if your trips fall during peak periods. Complete applications are processed in four weeks on average. No applications can be expedited. There are no exceptions.

Thank you for your interest in operating tours in Grand Canyon National Park. Questions? e-mail us or call 928-638-7707. Please note that this phone takes messages only; there is no live person who answers this phone. Leave a detailed message that is clearly annunciated so we can research your queries and return your call. For faster response times, please email.
Additional Information
Backcountry Camping Permits for Overnight Backpacking Operators
In addition to the CUA, Backpacking CUA holders are required to obtain all necessary backcountry camping permits from the Backcountry Information Center. Find more information about Backpacking Permits on the
Backcountry Permits page
.
Commercial Entrance Fees
Find more information about Commecial Entrace Fees on the
Entrance Fees - Commercial Tours page
.

PDF Display or Printing Issues?
Using a web browser to view and print our PDF forms and publications? You may experience issues where the PDF does not display or print correctly. Some web browsers do not automatically open PDFs using the Acrobat Reader application.
Things to try
(1) Select the Acrobat Reader plug-in for your browser's default application for viewing/ printing PDFs. or (2) You can right click and save the PDF document to your desktop and then open it with the Adobe Reader application, and print from there.
Get the newest version of free Adobe Reader.
Last updated: September 23, 2021