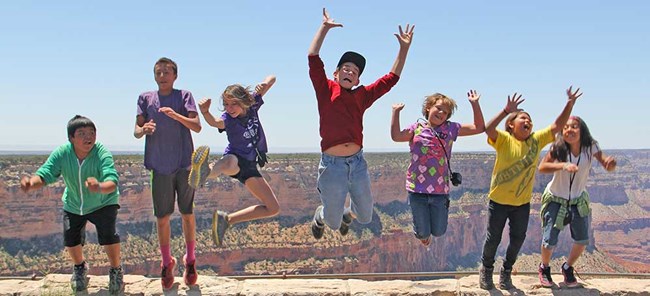 Day Camps are free five and a half hour long programs for visiting and local youth ages 7-12. Youth, led by a Park Ranger, will walk and ride the bus, play games and do activities to discover more about Grand Canyon's plants, animals, rocks and people. Youth will earn a Junior Ranger badge at the conclusion of the day camp.
Day Camps meet at 8:30 am inside Park Headquarters found by Parking Lot A. Upon arrival you will fill out a release form for your child. Youth need to wear study shoes and bring a backpack filled with lunch, snacks, a full water bottle, sunscreen and a jacket. Pick up is at 2:00 pm inside Park Headquarters.
Day camps for 2016 have ended. Check back in 2017 for more information.
Day Camps are for youth ages 7-12 only. These are free five hour programs. You are welcome to register your child(ren) for as few or as many camps as you would like, and we will try our best to accommodate your request(s).