Time Travelers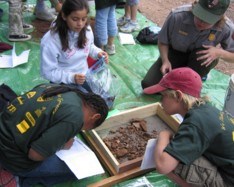 Overview

This five-hour program begins at Desert View Watchtower at the East Entrance of Grand Canyon National Park. Through hands-on activities, experiential learning, and the study of Ancestral Puebloan archeological sites, students will develop a connection to the prehistorical cultures and present-day people who call Grand Canyon home. Humans are survivors and we all have basic needs that the environment provides. Anthropology and archaeology teach us how the ancestral puebloan cultures managed to thrive within the restrictions of their environment and teaches us how we are similar to cultures of the past.
During the program, students will describe the similarities and differences between the ancient cultures and their own. They will learn basic archeological techniques, and will conduct a sifting activity to look for and record artifacts. From the artifacts they find, they will make inferences, based upon observations, regarding cultural lifestyles of Ancestral Puebloan people. To connect with the lives of children who lived 900 years ago, they will play a version of traditional hoop and stick game.
Additionally, they will tour the Tusayan Pueblo ruins, the Tusayan archeological museum, and the historic Desert View Watchtower.
Last updated: January 19, 2018