Distance Learning
Condor's Flight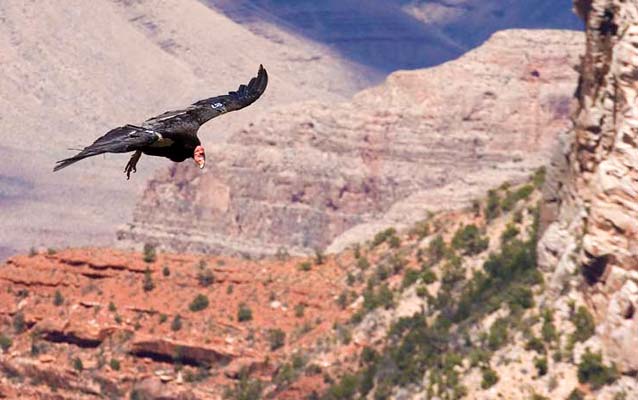 Grand Canyon National Park's free distance learning programs offer students an exciting introduction to the science behind the park.
Condor's Flight presents the story of the endangered California Condor from living on the brink of extinction to their survival in the wild today within Grand Canyon National Park. Through a live and interactive lesson with park rangers via the internet, students learn about the ecological principles of adaptation and survival. The program lasts about one hour.
How to Participate
Schools must have video conferencing capability to dial the park's IP address at the scheduled time, or they can participate online via Skype.
To Register:
Distance Learning Application Form

Program Materials:
Once you are scheduled for a distance learning program, use the following links to access the lesson plans and materials needed to prepare your students.
Related Links:
The fictional chapter book Path of the Thunderbird can be used to provide a deeper connection with our curriculum along with addition resources located on the book's website.
After the program, please participate in our
online program evaluation
to help us improve our educational efforts.
Details
Subject:

Biology: Animals, Conservation, Ecology, Education, Environment, Geography, History, Science and Technology, Wilderness, Wildlife Biology

National/State Standards:

NS.K-4.3 Life Science
NS.5-8.3 Life Science
NSS-G.K-12.5 Environment and Society
NSS-G.K-12.4 Human Systems

type:

Distance Learning
Last updated: August 14, 2018