Dynamic Earth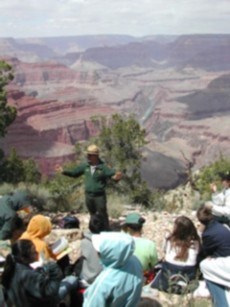 Overview of Program

This five-hour program helps students unravel the geologic story of how Grand Canyon formed. We meet your bus at 9 a.m. at Park Headquarters and, after a bathroom break, travel 30 minutes to Hermit's Rest to begin the program.

During the program your class learns about the the three rock families, geologic time, the canyon's rock layers, plate tectonics and the uplift of the Colorado Plateau and how the canyon was carved. In addition, through quiet reflection, your students have the opportunity to form a personal connection while exploring what the canyon means to them.

The program ends at 2 p.m. and your bus returns back to Park Headquarters by about 2:30 p.m.

NOTE: This program includes 1.5 miles of walking on paved and rough, unpaved trails.
Last updated: January 4, 2018