Field Trips to Grand Canyon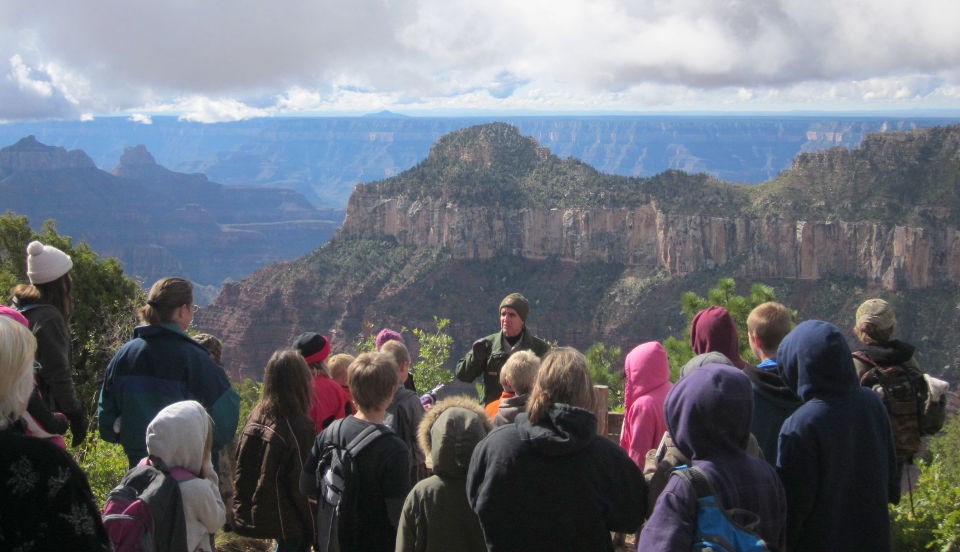 Ranger-led Field Trip Overview
Grand Canyon National Park provides the perfect outdoor setting to enhance classroom-based learning.
Each school year, the park's Environmental Education Branch offers 2.5-hour and 5-hour field trips for grades 3 through 12.
All field trips are curriculum-based and free of charge; most take place on the South Rim.
Registration for all Field Trips is required. Information for the 2020-2021 school year will be available in August 2020
Individual field trip programs are limited to 35 students; if you have a larger group, register for additional field trip programs (we can conduct multiple field trip programs on most days).
For every field trip, we require a 5 to 1, student to chaperone ratio
Field Trip Registration Information: 2020 - 2021 School Year
Information for Ranger-led Field Trips for the 2020 - 2021, school year will be available in August 2020
If you are interested in coordinating a self-guided experience without rangers, we have self-guided materials available that we can email to you.
Individual field trips limited to 35 students; if you have a larger group, register for additional field trip programs (we can conduct multiple field trip programs on most days).
Field trips require a 5 to 1 ratio of students to chaperones
Registration for the 2020-2021 field trips will be announced in August 2020. To request information about field trips: e-mail us
Field Trip Program Information:
Prepare for Your Ranger-led Field Trip
If you are a teacher enrolled in a Ranger-led Field Trip, print the materials below.
---
Travel Grants
A limited number of travel grants are available for schools with restricted travel budgets. To be eligible, your school must:
Have a scheduled, confirmed Ranger-led Field Trip with the Grand Canyon Education Office
Have Title 1 status with at least 40% of the students on a free or reduced lunch program.
To apply:
e-mail us, and request a Travel Grant application
Complete all portions of the grant application form and return it to the education office by email
A confirmation email to you with the amount of money awarded will be sent to you within one month after receipt of application
Travel grants only cover a portion of transportation costs to and from Grand Canyon National Park
A check will be sent to your school after your scheduled field trip (checks cannot be sent prior to your scheduled field trip)
This funding is made possible by the National Park Service, Grand Canyon Conservancy and private donors who support the park's education programming.
---
Canyon Field School
Canyon Field School (CFS) is a program in partnership with the National Park Service and the official nonprofit park partner, Grand Canyon Conservancy. Offering field trips and day programs as well as overnight educational camps, CFS provides many opportunities for school and youth groups.

Find out more about the programs available.
---
Self-Guided Field Trips
If you are not able to participate in a ranger-led field trip but would like to lead an independent field trip for your class, please view
---
Contact Us
To learn more about the park's education programs, contact us.
Last updated: June 23, 2020