Delaware North & National Park Service Litter Program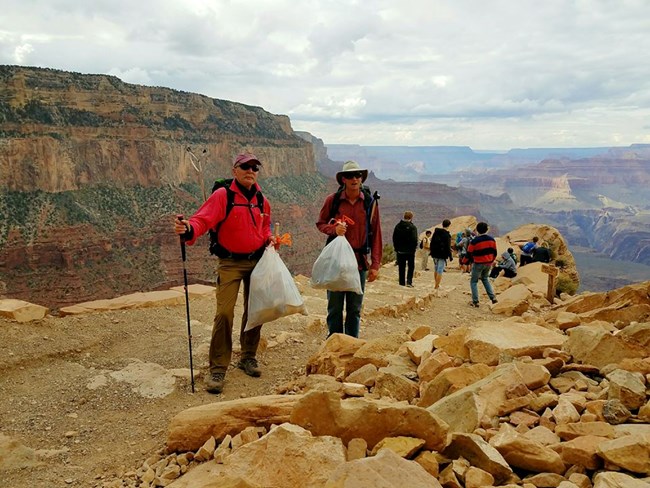 The National Park Service is proud to host ongoing Litter Projects in conjunction with Delaware North. Interested guests are invited to make a positive impact on Grand Canyon National Park through microtrash pick-up, facilitated by an employee of the National Park Service. Join us for a day of direct action and education!
Project Schedule
Thursday's:
8:30 am - 12:30 pm
Litter pick-up at the Canyon's Rim, including an interpretive program: 'Why Trash Matters'

1:30 pm - 2:30 pm or 2:30 pm - 3:30 pm
Complementary tour exploring the Grand Canyon Civilian Conservation Corps or Kolb Studio
To sign up for a Litter Project,
e-mail us
with your full name and project date (specific Thursday) of interest. We will promptly be in touch to share day-of logistics and answer any additional questions.
Why should I do this?
Participating in a Litter Project facilitated by the National Park Service is an opportunity to learn more about Grand Canyon National Park while taking concrete action to honor and protect it. In addition to informal discussion throughout the day, participants in facilitated Litter Projects will have the chance to learn through interpretive programs and tours (see 'Project Schedule') and get to know fellow volunteers and staff who care deeply about this work.

Can my whole family/group participate?
Absolutely. With the shared understanding that individuals participating in Litter Projects are responsible for their own safety and that of loved ones who benefit from safety-conscious support, we welcome environmental stewards of all ages and abilities! We will limit each Litter Project, however, to fifteen total participants.

Do I need to bring supplies?
The National Park Service will provide litter sticks, bags, and gloves. Individuals are asked to bring warm layers if relevant, plenty of water and snacks, sun protection, and a positive attitude.

Is this safe?
While the facilitated Litter Projects will not stray from designated visitor areas and trails, there is inherent risk in participating in outdoor service activities. We ask that folks practice self-awareness, especially at the Canyon's rim.

Is paperwork involved?
Yes. When you e-mail us to sign up for a Litter Project, we will share Volunteer Service Agreement forms that we ask you bring with you on the day of the project.

Why do these Litter Projects exist?
Please see the 'Microtrash and the Canyon' section to learn more about what necessitates this program – and waste-reduction as a whole!

Where can I get more information about the tours of the Grand Canyon Civilian Conservation Corps or Kolb Studio?
As noted in 'Project Schedule,' guests will have the opportunity to attend a tour about the Grand Canyon CCC or dive deeper into Grand Canyon's history at Kolb Studio following the pick-up portion of Litter Projects. When you sign up, we will be in touch to specify what tour will be available on the day of your Litter Project.
Grand Canyon CCC tours will occur from 1:30 pm – 2:30 pm, while Kolb Studio tours will be available from 2:30 pm – 3:30 pm.
For more on the Grand Canyon Civilian Conservation Corps, visit: https://www.nps.gov/grca/learn/historyculture/ccc.htm
For additional information on Kolb Studio, visit: https://www.nps.gov/grca/planyourvisit/art-exhibits.htm

Additional questions?
e-mail us and we will be happy to communicate with you.
Make an Impact
In 2017, Grand Canyon National Park welcomed 6,254,238 recreation visitors. Tied to great use and appreciation for the resource, however, is the reality of microtrash in and around Grand Canyon. Microtrash, the focus of this Litter Program, can be understood as small bits of trash such as bottle caps, pistachio shells, plastic wrappers, pieces of foil, cigarette butts, dental floss, and much more. Microtrash poses a significant threat to wildlife at Grand Canyon and beyond, and is for many a sign of disrespect. Whether you care about microtrash and waste-reduction because you're dedicated to the health of California Condors, want to hike into Grand Canyon without seeing the corners of wrappers on trail, have concern about consumerism's impact on the earth at large, or are new to considering what microtrash means in your life, we welcome you to this Litter Program!

Learn More
Of course, during your Litter Project you'll have the opportunity to learn more through the interpretive program 'Why Trash Matters,' as well as the additional (and free!) educational opportunities thereafter (see 'Project Schedule'). Below we've included links for additional learning connected to microtrash, waste-reduction, and Grand Canyon National Park.

'Trail Courtesy Practices That Leave No Trace": https://www.nps.gov/grca/planyourvisit/courtesy.htm

'Go Green and Refill Your Water Bottles": https://www.nps.gov/grca/planyourvisit/refilling_stations.htm

"Sustainability in the National Park Service": https://www.nps.gov/subjects/sustainability/index.htm

"Threats to California Condor Survival," from the U.S. Fish & Wildlife Service: https://www.fws.gov/cno/es/calcondor/condorthreats.cfm

"California Condor," from The Peregrine Fund: http://www.peregrinefund.org/explore-raptors-species/California_Condor

"Microtrash and the California Condor," a video featuring veterinarian Janna Wynne: https://www.youtube.com/watch?v=VmdLI4eXVHw

Grand Canyon Volunteers community Facebook page, where folks celebrate/share pictures and stories about the amazing work volunteers do with Grand Canyon National Park: https://www.facebook.com/Grand-Canyon-Volunteers-1596801627252201/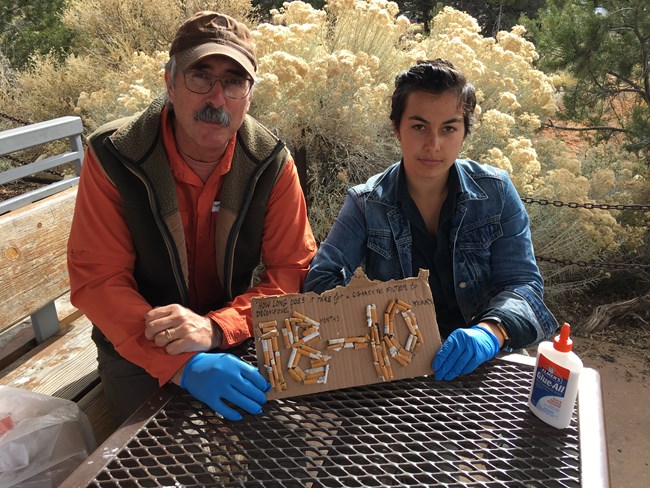 Thank you for contributing to
Grand Canyon National Park!
We look forward to connecting and collaborating during a Litter Project.
Last updated: September 25, 2018