Winter Activities & Conditions
Recreation
Tours of Lehman Caves are offered daily throughout the winter, except for Thanksgiving Day, Christmas Day, and New Year's Day.

Outdoor activities depend on recent weather conditions. Hiking is usually possible on lower, south-facing slopes. The quarter mile Mountain View Nature Trail is the only developed trail in this zone. Snowfall is usually greatest during January, February and March. These are good months to cross country ski or snowshoe in the park. It is possible to climb Wheeler Peak in winter with the proper experience. If you consider extending your hike by spending the night in the backcountry, please register at a park visitor center.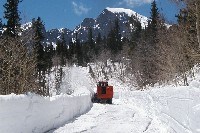 Winter Road Closures
The road to Park Headquarters and the Lehman Caves Visitor Center is plowed during the winter months. The Wheeler Peak Scenic Drive is plowed to the parking lot at the Upper Lehman Creek Campground. There is no snow removal beyond this point. The upper portion of the road closes depending on snowfall, usually November through early May.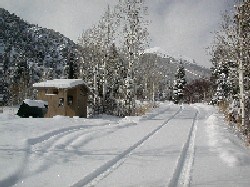 Camping
Lower Lehman Campground remains open all year. Water is available at the Lehman Caves Visitor Center (about 3 1/2 miles from the campground), but not in the campground. The RV Sanitary Station is also closed.
Weather
Winter days can range from mild (50's) to cold (high in 30's). Nightly low temperatures are often between 10 and 30 degrees, sometimes dropping as low as -10 degrees.
Weather conditions can change rapidly, so come prepared for extreme conditions.


Last updated: April 22, 2021