Kids Online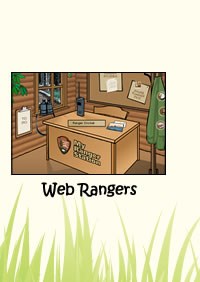 There are many fun, interactive, and educational government agency websites for kids. Just explore the links below.
Jr. Rangers
WebRangers! Cool, interactive National Park Service website with educational games, programs and activities for kids.
Junior Ranger Gazette, Newsletter published by the National Park Service, the National Park Foundation, and the Unilever Corporation.
General
Kids on the Web, U.S. Department of Interior Webpage for kids with links to other agencies such as the Bureau of Land Management, U.S. Fish and Wildlife Service, and the U.S. Geological Survey.
Wildlife
Encyclopedia of Life: http://www.eol.org/
This free, online encyclopedia (including photos and maps) will eventually document all of the 1.8 million species and other organisms that thrive around the planet.
Kids Planet, games and activities for kids and curriculum for teachers in Spanish and English.
Ranger Rick's Kid Zone, National Wildlife Federation's discovery Website for kids.

Safety
Lightning Safety, NOAA.gov for kids
FEMA for Kids, Federal Emergency Management Agency.

Climate Change
Climate Change Kids Site, by the Environmental Protection Agency
Kids Saving Energy, U.S Department of Energy

Earth Science Enterprise, NASA
Exploring the World of the Underground
Kid's Cave, American Cave Conservation Association.
Exploring the Universe
Space Science & Activities, NASA
Star Child Learning Center, NASA
Earth & Moon Viewer, Index Librorum by John Walker
Last updated: July 10, 2015