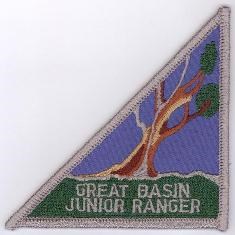 Do you want to become a Jr. Ranger? There are a few things you need to do to become a Jr. Ranger in Great Basin National Park:
1. Attend one of these four programs:
Lehman Caves Tour
Campground Evening Program
Night Sky Program
A Ranger Talk
Have the ranger sign your booklet. Check a visitor center for program times and locations.
2. Complete the appropriate number of activities/pages in the Jr. Ranger booklet for your age:
5 and under - three activities
6 to 9 - five activities
10 to 12 - seven activities
After completing these activities, you will review the booklet with a park ranger and be sworn in with the Jr. Ranger Pledge. Then, you will receive an official certificate and Jr. Ranger badge. Jr. Ranger books are available at any park visitor center.

This program provides an opportunity to learn about, and interact with, the park at your own pace. Have fun becoming a Jr. Ranger while you explore your National Park!
---
Check out The Junior Ranger Gazette, a newsletter published by the National Park Service, the National Park Foundation, and the Unilever Corporation.