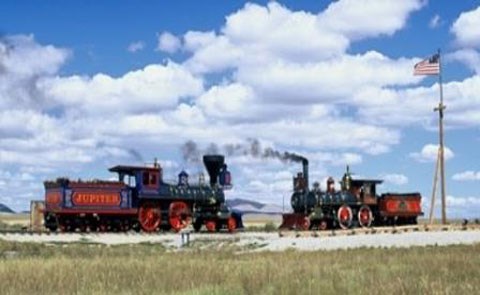 SUMMER
Locomotive runs generally occur everyday of the week, starting the first week of May through Columbus Day in mid-October. These runs will include the arrival of the Jupiter at 10:00 AM and the arrival of the 119 at 10:30 AM, a demonstration run at 1:00 PM, and the departure of the Jupiter at 4:00 PM and the departure of the 119 at 4:30 PM. Golden Spike NHS is located in the Mountain Time Zone and honors Daylight Savings Time.
BOILER WASHES
Throughout the summer season, the Jupiter and 119 receive scheduled boiler washes during the first and last week of each month. This scheduled maintenance prevents one of the locomotives from being available for public viewing throughout that day and part of the following day. The exact days of the boiler wash can be seen by following this link.*
WINTER
Starting mid-October , the locomotives are kept in the Engine
House for repairs and maintenance until the 1st week of May throughout our winter season. During this time the locomotives are usually available for viewing on your own or by participating in a ranger-guided tour. For either of these opportunities visitor need to check in at the Visitor Center.*
*For more information on Locomotive Operations or Engine House Tours follow the link or, please call (435) 471-2209 ext. 29.
Photo runs only. No rides are available.