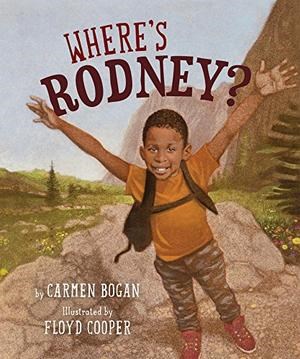 Family-Friendly Activity to Explore a Park and Read at the Same Time While Learning About the Importance of Nature for Children
WHO: The Golden Gate National Parks Conservancy, the National Park Service, and Yosemite Conservancy have partnered to bring a StoryWalk to the Marin Headlands. Look for Where's Rodney? signs along the trail. Written by Carmen Bogan and illustrated by Floyd Cooper.
WHAT: A StoryWalk is a way to explore the park and read at the same time. Pages from childrens' books are put on signs and sprinkled along a trail. Walk the trail to read the story.
This particular StoryWalk is a story about Rodney an boy who looks for ways to go outside and experience nature on his own terms. He is that kid who just can't sit still and wants to be outside. When Rodney finally gets a chance to visit a real park, with plenty of room to explore and just be himself, he will never be the same.
It is a reminder that, even today, many children from different socio-economic backgrounds still struggle to enjoy a freedom that many take for granted.
WHEN: December 2017 until April 5 2018.
WHERE: Gerbode Valley, Marin Headlands.
WHY: Young readers will see themselves in Rodney, especially those curious to explore nature beyond a structured classroom setting. Carmen is hopeful that parents and caregivers will use this as a platform to discuss the importance of literacy and books at home and how we, as educators for the next generation of stewards, can teach them to care for nature and our parks.
HOW: To get there you can use MUNI 76X: Use Bunker Rd/Stables stop (weekends and holidays only). If you are driving, parking is available at the Smith Trail entrance.
More information on the StoryWalk.