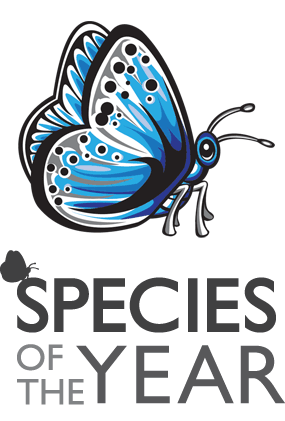 The Golden Gate National Recreation Area's (GGNRA's) far-reaching boundaries are home to more species that are listed by the federal government as threatened or endangered than any other national park site in the continental United States. Each year the GGNRA is featuring one of these special plants and animals through educational programs, events, restoration activities, and a variety of materials for park visitors of all ages.
2011 is the year of the mission blue butterfly. Listed as endangered in 1976, this small butterfly is only found in small remaining habitat fragments dotted across three Bay Area counties. The mission blue lays its eggs on just three species of lupine that are the sole food source for their caterpillars. These lupines grow scattered among fields of coastal prairie and scrub, but because they thrive at recently disturbed sites good lupine habitat is continuously shifting.
Mission blue butterflies need to be able to follow this natural host plant movement, but they typically only travel as far as 50 meters (164 feet) from the patch of lupine where they first emerged. Because they are such weak fliers, habitat loss and fragmentation from development, roads, trails, and dense stands of trees can pose enough of a barrier to prevent them from finding additional lupines, nectar plants, and mates. Habitat loss can also come in the form of invasive plants such as French broom which can quickly overtake grasslands and drive out lupines and butterflies. Preserving and restoring mission blue habitat is important not only for the butterflies, but for other native grassland birds, mammals, insects and wildflowers as well. Even people can benefit directly from helping to protect the mission blue butterfly: Mission blue's coastal prairies, when they are healthy, are effective carbon sinks that can help the Bay Area combat climate change.
For more information on what special events are going on for Species of the Year visit: