Rancho Corral de Tierra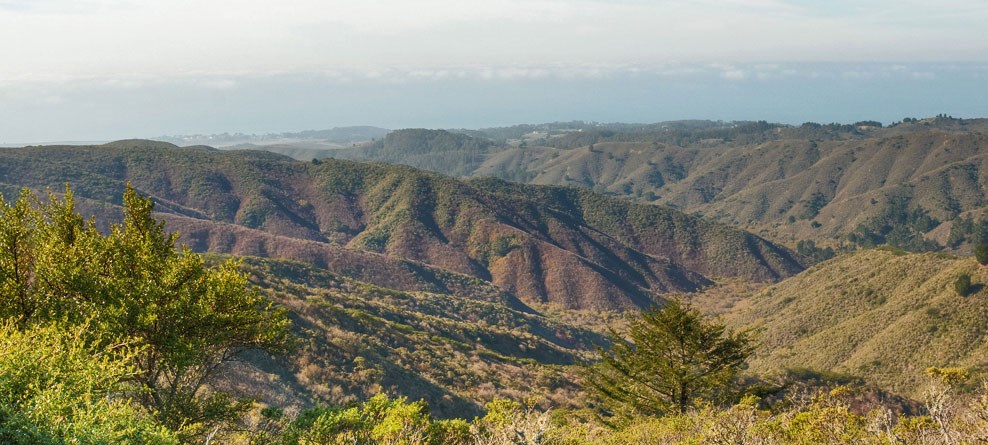 Rancho Corral de Tierra (Rancho) is the newest addition to Golden Gate National Recreation Area.
At nearly 4,000 acres, Rancho is one of the largest undeveloped parcels of land on the San Mateo peninsula. Once planned for development, this land is now protected as part of our nation's natural legacy.
As the National Park Service assumes management at Rancho, we will be working with the community, California State Parks, and San Mateo County Parks to improve trails, trailheads, and trail connections.
Tips and Highlights
Visitors should be aware that the stables and farms in the area are working operations. Visitors should not enter these properties or approach the animals without permission.
The dramatic ascent of Montara Mountain from the sea-2,000 feet in just over 1 mile-is a spectacular sight not duplicated anywhere else in the Golden Gate National Parks and in few other places on the California coast.
While visiting Rancho, please note that the National Park Service management of the area has just begun. Many of the existing trails are very steep and eroded and may be difficult to traverse until they are repaired or re-routed.
For access to Rancho, park at Gray Whale Cove and hike through McNee Ranch State Park. Check back for updates and new access points.
In an emergency, call 911 or the National Park Service's emergency dispatch at (415) 561-5656. Local authorities may respond faster than park rangers.
Low Resolution maps for screen viewing:
Map of Rancho Corral de Tierra page 1
Map of Rancho Corral de Tierra page 2
Page
Emergency

For medical emergencies call 911
For non-medical emergencies call:
San Mateo County Sheriff (650) 363-4911
NPS Law Enforcement Ranger (415) 561-5656
Local authorities may respond more quickly than park rangers. NPS Park Rangers will still respond for reporting medical or law enforcement issues.
For non-emergencies and to file a report with NPS Law Enforcement call (415) 561-5505.
Volunteer
For more information on volunteering with the National Park Service, visit us at: Volunteer at Golden Gate National Recreation Area

DRIVING DIRECTIONS
Click here for more information on how to drive to Rancho Corral de Tierra.
Last updated: November 7, 2017