RCDT: Frequently Asked Questions

When will Rancho Corral de Tierra ("Rancho") transfer to the Golden Gate National Recreation Area (GGNRA)?
December 2011.
Agricultural holdings will remain under the ownership of the Peninsula Open Space Trust (POST).
What will change when the property transfers?
Along with a modest increase in park visitation, you may notice some informational signs and the routine presence of park rangers and other staff as NPS begins to manage the property.
NPS goals for the long-term management of Rancho are being developed through the General Management Plan ("GMP") process. A draft plan was released in 2011. More information about the GMP is available on the park's website.
How will people know what is open and closed?

All of Rancho will be open to the public once the property transfers from POST, but visitors should be aware that the stables are working operations and visitors should not touch or feed animals and should not enter ranch buildings without specific permission.
Park staff will begin installing orientation and regulatory signs to help inform visitors of appropriate and prohibited uses.
What Rancho projects will the park be working on in 2012?

We will be undertaking assessments of trails and natural resources.
We will participate with San Mateo County in Phase II of the Mobility Study for Highway 1 between Montara and El Granada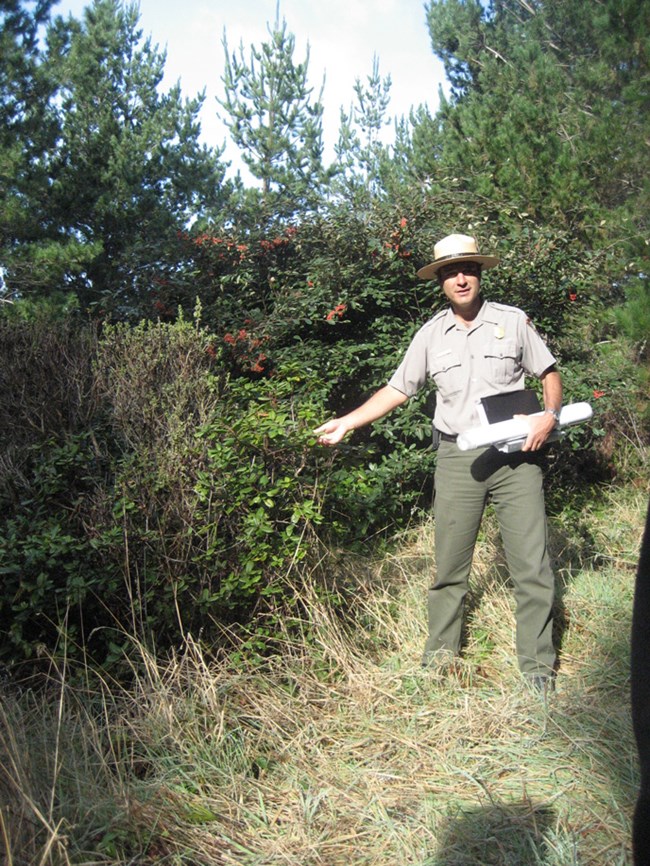 What will I be able to do at Rancho?
In the early stages, visitors can enjoy the existing trails network, whether on foot, bicycle or horseback.
The National Park Service (NPS) will continue to offer ranger-led hikes, guided bicycle rides and other programs to help guide early visitation and orient visitors to the new park.
The park is working with the community, California State Parks, and San Mateo County Parks to establish initial trailheads with small parking areas, signs and portable restrooms.
State Park maintains a small trailhead on Highway 1 just north of Ocean View Farms in Montara. The trail connects to Rancho via Pedro Mountain Road.
Visitors will be able to enjoy public programs offered at the stables-Ocean View Farms, Renegade Ranch, Ember Ridge, and Moss Beach Ranch.
The NPS will undertake a comprehensive plan for trails, trailheads, and other visitor-serving uses in coordination with the local community and other state and county agencies.
What about bicycles?

Bicycling is an appropriate recreational use at Rancho. As with all park users, including hikers and equestrians, bicyclists should share the trails and exercise caution when nearing other visitors. Check signage on trails for designated bicycle use.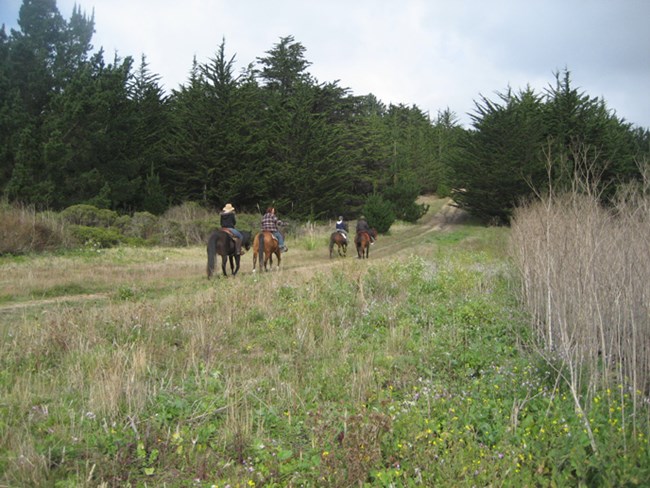 What about the stables and horses?
The stables will remain in operation under a 5-year lease signed in 2010. Rancho trails will continue to be open to horseback riding.
More detailed planning for managing and improving facilities will come after completion of the park General Management Plan/EIS (GMP) in 2013. GMP objectives for Rancho include continuing to make improvements to public access and environmental protection.
Will I be able to walk my dog on Rancho?
Yes. The Code of Federal Regulations (36 CFR §2.15) permits dogs to be walked on-leash in national parks.
The regulations for dogs on Rancho may or may not change as a result of the Dog Management Plan and Environmental Impact Statement (Plan/EIS) now being developed for the park. For more information, visit: www.nps.gov/goga/parkmgmt/dog-management.htm
A supplemental draft Plan/EIS will be released for public review and comment in early Fall 2013.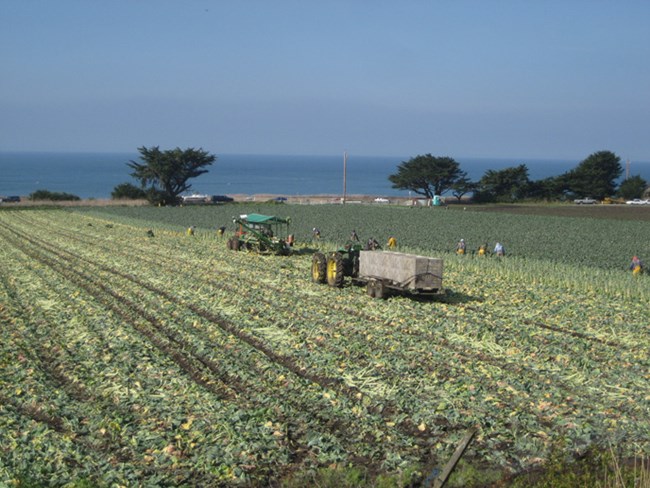 What will happen to the agricultural lands?
The agricultural holdings, which include large fields in Moss Beach and Montara, are leased from POST and operated as Cabrillo Farms by a local farmer. These will not be part of the park.
Visitors should not enter the farm fields, farm roads, or buildings without specific permission.
Who should I call to report an emergency?
For medical emergencies call 911
For non-medical emergencies call:
San Mateo County Sheriff (650) 363-4911
NPS Law Enforcement Ranger (415) 561-5656
Local authorities may respond more quickly than park rangers. NPS Park Rangers will still respond for reporting medical or law enforcement issues.
For non-emergencies and to file a report with NPS Law Enforcement call (415) 561-5505.
Last updated: July 15, 2013