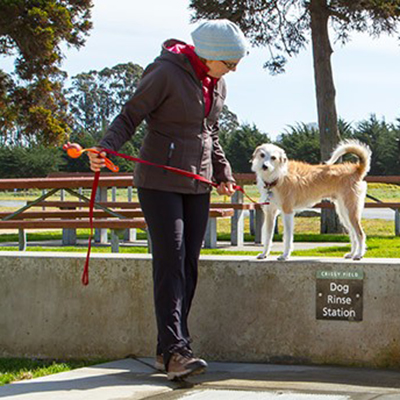 The Most Dog-Friendly National Park
Walking your dog responsibly is a fun, healthy, and popular way to enjoy Golden Gate National Recreation Area. GGNRA provides trails, beaches, and open spaces for dogs -- and their owners! We are proud to be the only park in the National Park Service to designate any areas for off-leash dog use.
The Most Dog-Friendly National Park into the Future
Dog ownership is part of the fabric of life here in the San Francisco Bay Area, and GGNRA is working with the community to create a new dog management plan for the modern era.
An improved plan will ensure the protection of the park's natural and cultural resources and continue to provide recreational opportunities for a wide variety of park users, including those who prefer a dog-free park experience.
After 14 years of public me
etings, public comment, and review, we are approaching the final stages of planning before arriving at a new dog management plan.
In Fall 2016, we plan to release a Final Environmental Impact Statement (FEIS) and anticipate a Final Dog Management Plan and Rule in late 2016 or early 2017.
GGNRA recognizes well-managed dog walking is a healthy and popular way to enjoy parkland. We will remain the most dog-friendly national park in the country under the new dog management plan.
For more information about each step of the dog management planning process, please visit the Dog Management Planning page.