Community Outreach Programs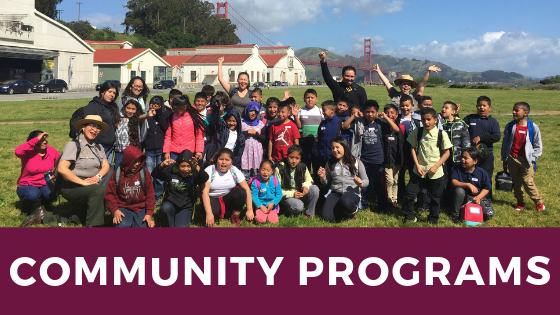 The Golden Gate National Recreation Area's Community Outreach Team facilitates access to parks for gateway communities while building on our mutual strengths to provide relevant programming by taking the parks to the people and the people to the parks.
We envision a future where the GGNRA and community groups collaborate to co-create transformative experiences that amplify the voices of communities we serve to make parks truly equitable, open and safe spaces for all.
The Community Outreach team offers a variety of programs to community groups and audiences served by community based organizations featuring the natural and cultural histories of the Golden Gate National Recreation Area. Through storytelling, art, food, and dialogue, the Rangers share the stories of
the time before time
to connect the parks untold stories with today's social justice themes and current events.
Our programs are created in partnership with community group leaders to customize park experiences for their audiences in order to foster connections between the Bay Area communites and their national parks.
If you or your community group would be interested in a Community Program, head over to our Plan Your Experience page to get in touch with one of our Rangers to see how we may work together.
The following programs are examples of programs that have been developed and offered to groups in the past.
Freedom on the Rocks

Audience: Teens or Adults

Description: Forced assimilation, political prisoners, the red power movement, and mass incarceration today: what does Alcatraz teach us about how freedoms are lost and won in a democratic society?

Dangerous Ideas

Description: Join us on a two hour facilitated dialogue program that invites participants to learn about Alcatraz' varied history while answering this question: How should a democracy respond to dangerous ideas?

Audience: Teens or Adults

Alcatraz is not an Island

Description: This program focuses primarily on the role of the American Indian Occupation and the symbolic activism/engaged resistance it represented. Take a close look at the political messaging and paintings left by those who participated in the longest occupation of federal land in American history.

Audience: College Students/Adults

Preserve and Protect

Description: The NPS mission is to preserve and protect natural and cultural resources. How do you preserve the dark histories of international sites of conscious such as Alcatraz? What is the role of a prison museum

Audience: Teens or Adults

Alcatraz: The identity of incarceration

Description: How does identity change? This program will draw on participants individual participation around themes relating to their own identities. Ties will be made to the changing identities of people once on Alcatraz, as well as the Future IDs art exhibit curently held on Alcatraz.

Audience: Teens or Adults
Forest Bathing

Description: A guided walk or hike of redwood forest to immerse and engage our senses in the redwood forest. Experience how to use nature to bring health into your life. Program can be customized.

Audience: 12 years and up.

Contradictions of a Conservationist

Description: This program explores what narratives of history are told and left untold by looking at William Kent, the man who donated the land that is now Muir Woods National Monument. This interactive program brings in the audience to engage in dialogue.

Audience: 16 and up

A People's History of Muir Woods

Description: Preserve and protect for future generations? What lasting consequences have people's actions in Muir Woods had on future generations? Explore the forest while engaging in dialogue around historic and present day topics such as displacement, assimilation, eugenics and racism.

Audience: 8th grade and up.

Tales from the Trees

Description: A family friendly program. Explore this unique ecosystem and learn what makes them unique. What lessons can we learn from the Redwood forest?

Audience: All ages. Family friendly

Thriving Communities

Description: Learn how resilient the community within the redwood forest is. How is your community resilient? Explore and learn during this guided walk.

Audience: All ages
Summer School in Marin

Description: A week long a partnership with a summer school that explores social justice through a National Park lense. This week consists of onsite programs at the school by park rangers followed by offsite trip to local park sites. End of week projects are facilitated by school educators and rangers.

Audience: Middle and high school youth
Last updated: March 19, 2019