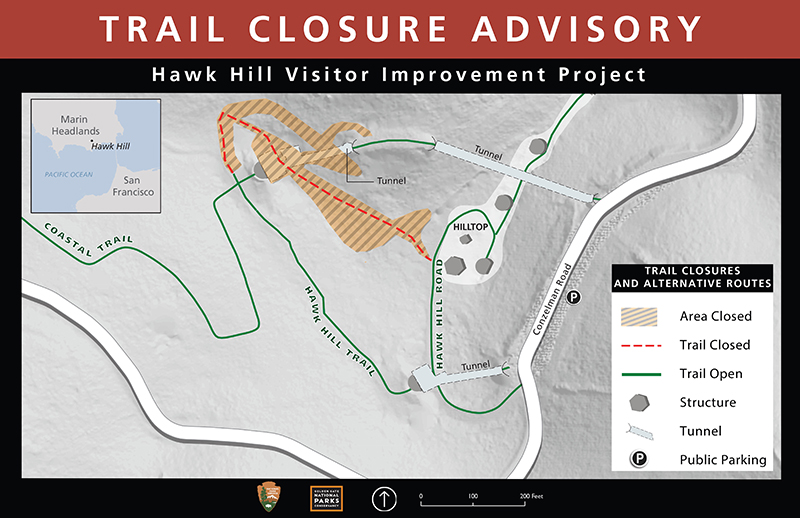 News Release Date:
March 9, 2017
Contact: Nathan Hale Sargent, 415-561-4732
MARIN COUNTY -- The National Park Service begins construction this month on an improved trail for Hawk Hill in the Marin Headlands.
Beginning March 27, a National Park Service trail crew will re-align the existing Hawk Hill Trail, construct low retaining walls and railings, and rehabilitate disturbed areas. The project continues a multi-year effort to restore the native habitat and improve the visitor experience at one of the most scenic viewpoints in Golden Gate National Recreation Area.
When the improved Hawk Hill Trail opens in August it will provide a gentler hike to the hilltop with a new alignment that is less prone to erosion than the existing trail. The project is an example of work underway to make the park more accessible to a wider variety of visitors.
The Golden Gate National Parks Conservancy will lead the stewardship efforts to re-vegetate the landscape following construction.
Hawk Hill and the parking area on Conzelman Road will remain open throughout the project. Hikers and bird-watchers can continue to reach the hill via Hawk Hill Road.
About Hawk Hill
Perched high above the entrance to the Golden Gate, Hawk Hill is site of amazing views, military history, and a multi-year restoration effort.
Recent restoration projects by the National Park Service include the removal of non-native Monterey pine and cypress trees to support the endangered mission blue butterfly.
For more information on the history and habitat of Hawk Hill visit
https://go.nps.gov/HawkHill
Link to project map and trail images
###