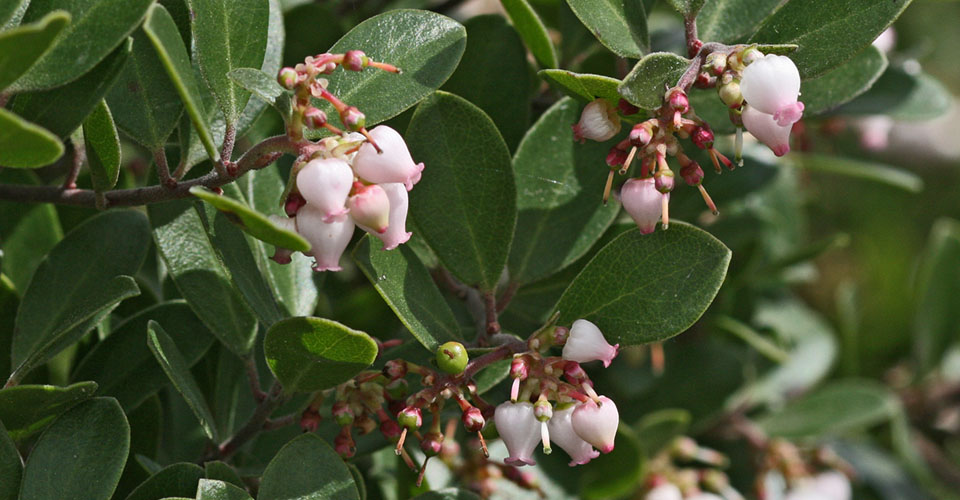 News Release Date:
February 14, 2018
Contact: GGNRA Public Affairs, 415-561-4730
National Park Service News Release
FOR IMMEDIATE RELEASE: February 13, 2017  
Contact:  GGNRA Public Affairs,  e-mail us, 415-561-4730
"Loneliest plant in the world" finds mates in time for Valentine's Day National Park Service and its partners act as matchmaker for rare Franciscan manzanita
San Francisco - Just in time for Valentine's Day, one of the rarest plants in the world has been united with others of its kind. The Franciscan manzanita  (Arctostaphylos franciscana) is unique to San Francisco, known only from the stretch of hills between Mount Davidson and the Presidio. Once locally abundant, this species has been reduced to one genetic individual in the wild. It has been called the "loneliest" plant, the last of its kind in the wild, and it is protected as an endangered species.
"The Franciscan manzanita was considered extinct in the wild for seven decades until a single plant was discovered in the Presidio in 2009," said Michael Chasse, biologist for the National Park Service. "The plant was saved and is now protected but it cannot reproduce without "mates," i.e., other individuals of its species with which it can cross-pollinate and produce seeds."
To ensure a viable future for this rare manzanita, the National Park Service and Golden Gate National Parks Conservancy have partnered with local botanical gardens to embark on a conservation "matchmaking" project. Last year, the Presidio Nursery worked with the UC Berkeley, East Bay Regional Parks, and San Francisco botanical gardens to grow plants from their collection of original Franciscan manzanitas, saved from other areas of San Francisco prior to urban development.
"We are extremely lucky that some forward-thinking individuals, including legendary native plant horticulturist Lester Rowntree, saved cuttings of Franciscan manzanita before development in San Francisco destroyed their habitat," explained Holly Forbes, curator, University of California Botanical Garden. As an Army base for over 200 years, the Presidio has not had the same level of dense development as the rest of the City and many of San Francisco's native plant species can still be found there.
These cuttings from the original plants represent the "perfect mates" for the lonely Franciscan manzanita in the Presidio: the same species, but different genetic individuals. Park staff have begun to plant them in areas designated as critical habitat for the species. In a few years, the plants will be mature enough to produce flowers and, after pollinator visits, berries that resemble little apples (hence the name manzanita, which means "little apple" in Spanish). Inside those berries will be the seeds that represent future generations of Franciscan manzanitas, and the renewal of a key native species.
-NPS -
The National Park Service has more than 20,000 National Park Service employees care for America's 417 national parks and work with communities across the nation to help preserve local history and create close-to-home recreational opportunities. Learn more at www.nps.gov.
Golden Gate National Recreation Area, situated in and around San Francisco, is the most visited park in the National Park Service, hosting over 15.5 million visitors last year. A diverse park with abundant recreational opportunities, as well as natural, cultural, and scenic resources, it encompasses more than 80,000 acres across three counties. The park also administers two other NPS areas, Fort Point National Historic Site, a Civil War era fortress built on the northernmost point of land in San Francisco, and Muir Woods National Monument, which comprises an impressive stand of old growth coastal redwoods in Marin County.

###