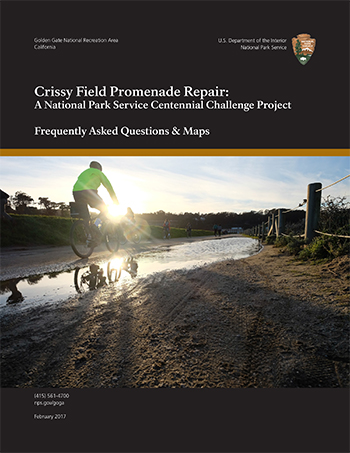 With more than 1.2 million annual visitors, the Crissy Field Promenade is one of the most well-used trails in the Bay Area.
The promenade is a beloved route along San Francisco's northern waterfront in Golden Gate National Recreation Area to enjoy views of the San Francisco Bay, the Golden Gate Bridge, and the city skyline. The promenade also comprises a portion of the 500-mile long San Francisco Bay Trail. As the National Park Service enters its second century, the promenade is ready for its first major repair project since the original restoration of Crissy Field 15 years ago.
This page provides
maps
and answers to
frequently asked questions
about the project.
The $5 million Crissy Promenade Repair is funded by the
National Park Service Centennial Challenge Project
, the
Evelyn and Walter Haas, Jr. Fund
, members of the
Golden Gate National Parks Conservancy
, and the
Cosco Busan Trustee Council
.
For more information contact GGNRA Public Affairs: (415) 561-4732
Download a project flyer