Date:
December 9, 2016
Contact:
Nathan Hale Sargent
, 415-561-4732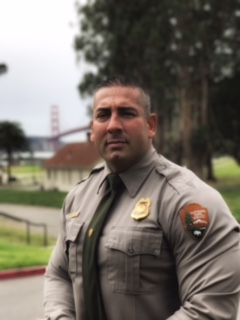 SAN FRANCISCO -- The National Park Service has selected Randy Lavasseur, Chief Ranger at Golden Gate National Recreation Area (GGNRA), as the next superintendent of
San Juan National Historic Site
in San Juan, Puerto Rico.
"Randy is a proven collaborative leader with a strong focus on the employee and their development," said Stan Austin, regional director of the National Park Service Southeast Region. "He has a successful track record working with partners to find creative solutions for community challenges. As we move into our second century of stewardship, we look forward to working with him as he assumes the top leadership position at San Juan National Historic Site."
Lavasseur has served as at GGNRA since 2012 and has served as Chief Ranger since 2014. In that role he has engaged local communities on a variety of complex park management priorities and taken a strong interest in mentoring and developing the next generation of leaders.
Deputy Chief Ranger Chad Marin has been named acting chief following Lavasseur's departure in January.
"I am excited to become a community member of San Juan and team member of the San Juan National Historic Site," Lavasseur said. "I will bring a strong focus on employee safety and well-being, employee development, career satisfaction, community engagement, and organizational transparency."
Lavasseur has a 15-year career of Federal service, including prior positions at Lake Mead National Recreation Area and the U.S. Bureau of Reclamation, as well as 5 years as a police officer with the Paiute Tribe in Clark County, Nevada.
He was born and raised in La Puenta, California, to second-generation Cuban immigrants. Lavasseur and his wife, Robyn, will arrive in Puerto Rico in late January with their son Enzo (age 6) and their 1-year old daughter, Lillian. They are also proud parents of 22-year old Bryce, who is a U.S. Marine.
San Juan National Historic Site preserves the fortifications of San Juan, Puerto Rico: three forts, the San Juan Gate, and most of what remains of the fortress wall that surrounds the City of Old San Juan. Over one million visitors travel to visit this historic site each year.
San Juan National Historic Site preserves stories of great ambition and aspirations. Countries fought for control of the tiny yet strategic island for centuries. Generations of soldiers lived and worked within the forts. Visitors today are as inspired by these stories as they are by the beauty of the architecture and the ingenuity of design and engineering of this UNESCO World Heritage Site.
###