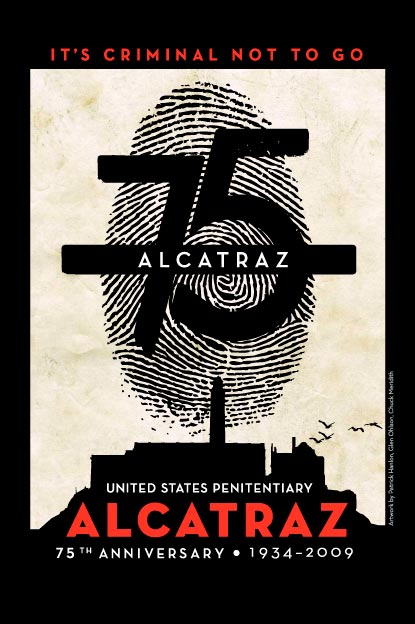 News Release Date:
July 23, 2009
Contact: Michael Feinstein, (415) 561-4733
On Sunday, August 9, 2009, the National Park Service (NPS) commemorates the 75th Anniversary of the opening of U.S. Penitentiary Alcatraz.
Every year for one day in August, the NPS hosts a day of activities that commemorate the anniversary of the penitentiary opening.  More than 75 former residents of Alcatraz are scheduled to be on island in honor of this special 75th anniversary event.
Throughout the day, first-hand accounts will be shared by former convicts, guards, and guard families that lived on the island.  Convicts will talk about their crimes, their life in a 5'x 9' cell, and escapes that they witnessed.  Guards will talk about what it was like to work side by side with notorious criminals.  Former Alcatraz Island residents often bring personal photographs and historic memorabilia from their time on "the Rock".
Representatives from the Federal Bureau of Prisons, U.S. Coast Guard and other partner government agencies will be on hand to describe their long history with the island.  The US Post Office will be on hand to cancel letters and postcards with a commemorative postmark. Also on display on the island will be the historic Alcatraz Fire Engine, a1934 Diamond T.  The last boat used to transport prisoners, correctional officers and their families back and forth from San Francisco, the Warden Blackwell, will be docked at the island. 
Formal programs presented by those that lived on Alcatraz will be scheduled approximately every 30 minutes, but opportunities for informal conversations will occur throughout the day.  For a specific schedule of talks and exhibits for this event, go online prior to the event to www.nps.gov/alca. Tickets for this special day will sell out early, so purchase tickets from the NPS boat concessionaire, Alcatraz Cruises, the only official distributor of Alcatraz tickets. For tickets online, go to www.alcatrazcruises.com or call 415-981-ROCK (7625).