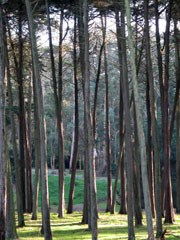 The GGNRA and Presidio Trust have completed the environmental review process for the Presidio Trails and Bikeways project. This project will provide the public with an interconnected, safe, and enjoyable trails and bikeways system, while protecting and managing the Presidio's natural and cultural resources.
The GGNRA and Presidio Trust have determined that the proposed alternatives in the EA will not significantly affect the environment and issued a Finding of No Significant Impact (FONSI) for the project.
Click here to view the environmental documents for the project.