Ocean Beach Fire Program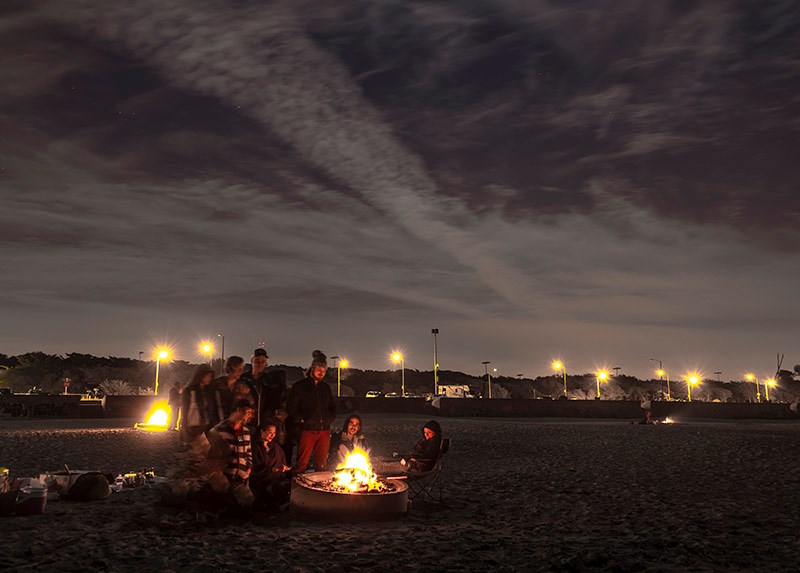 Ocean Beach Fire Program
The National Park Service administers a safe, manageable, sustainable program for recreational fires at Ocean Beach. The Ocean Beach Fire Program consists of 12 main elements:
1. Permit System
Groups of 25 people or larger are required to obtain a Special Use Permit for beach fires at Ocean Beach.
Visit the Special Use Permit page for more information
.
2. Burn Season and No-Burn Season
Fires are allowed
on Ocean Beach for eight months,
March through October
, under the
Beach Fire Regulations
for Ocean Beach. Fires will not be allowed on Ocean Beach from the first day in November to the last day in February.
The Burn Season aligns with when demand from the public for fires is the highest.
The No-Burn Season avoids burning during the
Bay Area Air Quality Management District's (BAAQMD)
Winter Spare the Air season. During the No-Burn period fire rings will either be removed from the beach or remain with locked lids affixed for the season. A comprehensive cleaning of the affected beach area will occur at the beginning of the No-Burn season followed by a reduced maintenance schedule for the remainder of the period.
3. Partnership with San Francisco Recreation and Parks Department (SFRPD)
San Francisco District One Supervisor Eric Mar and the City and County of San Francisco (CCSF) have generously allocated funds (out year funding pending CCSF budget approval) to support the Ocean Beach Fires Program. This partnership and financial support will facilitate an improved fire program, where SFRPD will provide support for maintenance, trash removal, and cleaning associated with the fires, and will also provide for a continuation of support for public outreach and education.
4. Fire Rings
The National Park Service provides 16 fire rings/pits for Ocean Beach fires between Stairwells 15 and 20. As existing fire rings fail, they will be replaced with new heat and corrosion resistant rings modeled after designs based on successful installations at other coastal beaches.
Fires must be extinguished with
WATER ONLY
. Bring a bucket to collect ocean water, or bring your own water. Covering the fire with sand does not extinguish the fire. Instead it insulates the hot coals and fills the pits with sand.
5. Signage
Previous signage was replaced March 2017 with simpler designs at each stairwell. On-beach signs have been added near the fire area. These signs have been developed based on input from public comments and a stakeholder workshop.
6. Enforcement & Beach Fire Liaisons
Law Enforcement Ranger and United States Park Police (USPP) enforcement operations will be supported by an expansion of the outreach and education activities of the NPS and SFRPD, including a Beach Fire Liaison program.
Through the Beach Fire Liaison program, staff and volunteers can provide educational support and assistance in complying with
beach fire rules and regulations
.
Law Enforcement Rangers and USPP will continue to work toward ensuring the success of the Ocean Beach Fire Program by making contact with visitors on Ocean Beach which may result in warnings, citations, and arrests.
Violators are liable for up to $5,000 fine and/or 6 months in jail.
7. Public Outreach and Education
To contribute to the long term success of the Ocean Beach Fire Program, the NPS and SFRPD will work together to conduct community engagement and education. .
8. Curfew Time
The Ocean Beach Fire Program
curfew is 9:30PM
. All fires need to be extinguished by this time, although visitors in compliance with other regulations are allowed to remain on the beach.
9. Summer Spare the Air Days
While the BAAQMD does not prohibit fires on summer Spare the Air days, the NPS will prohibit them.
10. Revised Data Collection and Monitoring
Data collection methods modified from those used during the 2014 Revised Pilot Program will help to provide a baseline for evaluation of the success of the fire program at Ocean Beach.
11. Ongoing Program Evaluation
Join the National Park Service for annual public workshops during the No-Burn Season to share information help identify park resources due for repair and replacement, and to chart a course together for the next Burn Season.

12. Age Requirement
Minors must be supervised. A responsible leader, 18 years or older, must be present for every 10 children under 18 years of age.
---

History of the Ocean Beach Fire Program
There is a long tradition of beach fires on Ocean Beach predating the lands transfer of Ocean Beach to Golden Gate National Recreation Area (GGNRA) in 1975. The National Park Service implemented Pilot Beach Fire Programs in 2007 and 2014 to address outstanding concerns. Despite efforts to increase conformance to rules, NPS continued to have ongoing issues and concerns regarding public safety, visitor experience, NPS staff safety, park operations, and air quality.
The new
Ocean Beach Fire Program
went into effect April 4, 2016. This program was developed following a 44-day period of public review and comment on a proposed program, during which 508 comments were submitted, and NPS made a number of changes to the plan based on public comment. The final program extends the fire curfew to 9:30pm, expands the number of available fire rings from 12 to 16, and does not require permits for groups of fewer than 25 people.
For further background and full documentation of the Ocean Beach Fire Program's development visit the NPS Planning, Environment, and Public Comment website at
https://parkplanning.nps.gov/OBfireprogram
You can
join the park mailing list
to stay updated on the process of this project as well as other park projects. If you have any questions please
e-mail us
Last updated: October 27, 2021