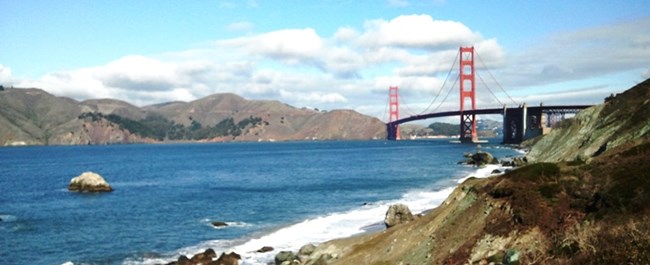 The Golden Gate Bridge, Highway and Transportation District (GGBHTD) is partnering with the Golden Gate National Parks Conservancy and National Park Service to improve the visitor experience and visitor facilities on the southeast side of the Golden Gate Bridge, in preparation for the Bridge's 75th anniversary in May 2012
The goals of the enhancements are to improve the visitor experience on the east side of the Bridge by augmenting visitor services, improving orientation/wayfinding; improving traffic flow, visitor access and site circulation; improving site accessibility; addressing parking and visitor safety issues; and enhancing historic, natural, and recreational resources in the area. The proposed improvements are consistent with the 1994 NPS General Management Plan Amendment for the Presidio, the approved Presidio Trails and Bikeways Plan and the Presidio Vegetation Management Plan.
The Parks Conservancy and NPS, as a lasting legacy to the famed span, have developed a series of visitor enhancements to obtain these goals and significantly expand opportunities and experiences for visitors to discover the rich history of this internationally acclaimed engineering marvel.
Improvements planned include:

Construction of a new visitor Pavilion to serve as a welcome and interpretive center;

Renovation of the historic Round House;

Upgrades to the Bridge Café; and

Enhancements to the Bridge Plaza and Golden Gate National Recreation Area surrounding parklands.
Construction will begin in August 2011 and be substaintially complete by April 2012. Work will be closely coordinated with nearby concurrent projects such as trail improvements, including those to the Battery East Bay Trail, Battery East parking lot/trailhead, and the Golden Gate Overlook, as well as GGBHTD interpretive exhibits, lead remediation at Battery East, and intersection improvements at Lincoln Blvd / Highway 101 ramps.
Updates about site improvements and the 75th anniversary program will be posted at
www.goldengatebridge75.org
as they become available.
For more project information and to download any documents released to the public please visit the park's PEPC website.

Click here to download a pdf flyer that contains project information.