Alcatraz Ferry Embarkation EIS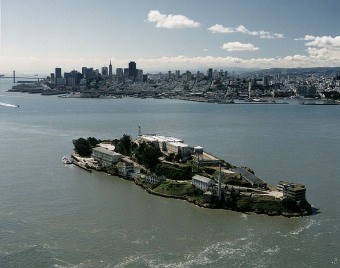 On Friday, February 20, 2015 the National Park Service (NPS) released the Draft Environmental Impact Statement (DEIS) for the Alcatraz Ferry Embarkation project. The project would establish a new, longterm ferry embarkation site for passenger service between the northern San Francisco waterfront and Alcatraz Island. It would also establish occasional connecting ferry service between the selected Alcatraz ferry embarkation site and the existing Fort Baker pier, as well as between Fort Mason and other park destinations in San Francisco Bay.The planning process is following requirements of the National Environmental Policy Act (NEPA) and the National Historic Preservation Act (NHPA). Click here to download the informational newsletter (PDF, 726KB).
The DEIS can be downloaded by CLICKING HERE (PDF, 27MB) or from the park's public PEPC website. Printed versions of the document can be viewed at local public libraries: San Francisco Main Library; San Francisco Library Anza Branch, Sunset Branch, Marina Branch, Presidio Branch; and the Sausalito Main Library.
The document will remain open for review and comment from February 20 through May 20, 2015. We invite you to attend the public meeting and tour to learn more about the project and provide comments:
March 31 at 4:00 to 7:00 P.M.
Bayside Conference Room
Pier 1, The Embarcadero
San Francisco, CA 94111
A tour of Piers 3, 31½, and 41 will be held April 2. For more information, please check park's public PEPC website. Information will be posted as it becomes available.
Comments can also be submitted online at the park's public PEPC website, as well as by mail to:
Superintendent, Golden Gate National Recreation Area
Building 201, Fort Mason
San Francisco, CA, 94123
Attn: Alcatraz Ferry DEIS
Project Purpose
The NPS seeks to secure a site on the northern San Francisco waterfront that provides for a long-term ferry embarkation facility for visitors traveling to Alcatraz Island. The objectives for this project include creating a ferry embarkation site that:

Establishes a long-term (at least 50 years) primary location for visitor access to Alcatraz Island.
Is economically feasible and sustainable, by enabling substantial reinvestment of ticket sales needed on Alcatraz Island and on other park facilities and visitor programs.
Accommodates the critical facilities and programs needed for visitors and staff safety and comfort, and provides for efficient ferry boat operations.
Provides an identifiable area for a quality welcome, orientation, and interpretation of the natural, cultural, scenic, and recreational resources of Alcatraz Island, GGNRA, and the larger national park system.
Provides facilities for expanded ferry service to accommodate existing and future visitor demand for travel to Alcatraz Island, the Marin Headlands, and by connecting shuttle bus to Muir Woods.

You can join the park mailing list to stay updated on the process of this project as well as other park projects. If you have any questions please email e-mail us.



Last updated: February 28, 2015