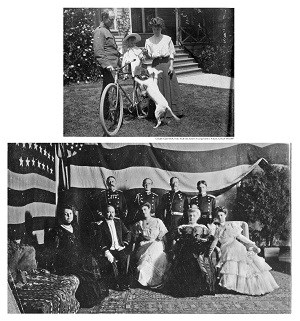 For families that lived at the Presidio of San Francisco, it was not merely a military reservation but rather a beloved first home for newlywed young wives, a playground for imaginative children, and a world of privilege for teenagers.
Colonel Frederick Funston came to San Francisco while en route to the Philippines in 1898. He attended an afternoon tea where he met Eda Blankart, a local music teacher. The young colonel fell "head over heels in love with Eda, and in a whirlwind of courting, wooing, and cooing, they had compressed two years of romance into two weeks." Funston proposed. After the couple was married, he smiled and said, "[It was] the smartest thing I ever did in my life."
Promoted to Brigadier General, Funston was assigned as Commander of the Department of California in 1899. After touring the Philippines with her husband, Eda had learned well the role of Army wife. She hosted tea parties, made regular calls on local families, and offered advice to the wives of enlisted men at the Presidio.