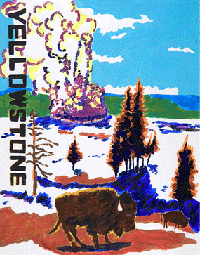 The Tectonic Vacation Project blends the science of plate tectonics with the culture and history of places with dramatic geologic landscapes. Students design a year long trip across several tectonic plates, exploring the significant human and rock stories of their destinations.
Fifteen tectonic travel decals and accompanying information sheets provide students with introductory material as they plan their itineraries. Links to the decal information files are listed near the end of this page.
Student instructions outline the scope of the project. A tectonic vacation travel planner helps students meet the requirements of their trip. One destination must be a place of the student's interest and not included in the fifteen decal locations.