Subduction Construction Game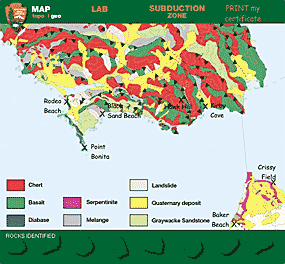 Subduction Construction is an educational game in which players examine Franciscan Complex rocks of the Golden Gate Headlands to place them in the context of the Cretaceous Period subduction zone.
Players use high-quality, digital images of rocks from seven collection sites of the Golden Gate Headlands to record geologic data "in the field." Then they bring their rock samples to the lab and perform tests to complete the identification of the rock samples.
Players are ready to visit the subduction zone and begin "construction" once they accurately identify the rock samples. Successful placement of all the rocks starts an animation of the subduction zone, which helps players visualize the tectonic movements that formed much of the dramatic geologic scenery of the San Francisco Bay Area.
Subduction Construction is designed to take about 20 to 40 minutes to finish and must be completed in one sitting. Your data will not be saved once you quit the game. At the end of play, a certificate can be printed out to verify either completion of the game or the correctly identified rocks if the game was not played in entirety.
The game requires your monitor to be set to at least 800x600 resolution and you must have Flash version 8 or greater installed to play. If you don't see a way to start the game on the entry page, you probably need to update your version of Flash.

You can get the latest version of Flash here for free.
Hint for playing Subduction Construction:
Look at the geology map (click on "geo map" on the top green banner) to make an educated guess about which rock types may be found at certain collection sites.
Last updated: February 28, 2015