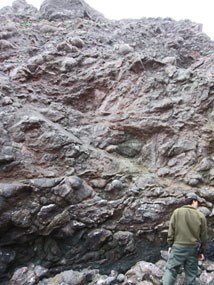 This Rocks on the Move excursion brings students to the Point Bonita lighthouse trail, a location with both maritime and geologic significance. The high cliffs and volcanic rocks form a dramatic backdrop for students to work collaboratively to produce a simplified version of F. Leslie Ransome's 1893 geologic map of Point Bonita. Students work in teams to answer their questions about the changing landscape of an investigation site of their choosing.
By the end of the program, students have the opportunity to recognize evidence of weathering and erosion on Franciscan Complex rocks, and to consider the reasons why some of the Point Bonita pillow lavas remain essentially unchanged from the 1870s, while other sections of trail erode and slide frequently. Students speculate on how the continued processes of weathering, erosion, human activity and climate change may impact the Point Bonita landscape in the future.
Click on the buttons on the right side of this page to take a virtual tour of the Point Bonita trail, and to see the geologic investigation sites.
To learn more about the Rocks on the Move experience at Point Bonita, view our annotated curriculum guide, with links to lesson plans and activities.