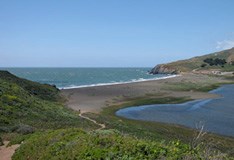 How do we recognize geologic change in our environment?
How do humans influence these changes?
During Rocks on the Move at Rodeo Lagoon: Tracking the Human Footprint, students use historic photgraphs and depictions of the ancient past to collaboratively develop a map showing the degree of human impact (a Human Footprint map) in the Rodeo Lagoon area of the Marin Headlands.