Rocks on the Move at Rodeo Lagoon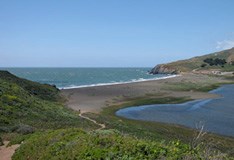 How do we recognize geologic change in our environment?
How do humans influence these changes?
During Rocks on the Move at Rodeo Lagoon: Tracking the Human Footprint, students use historic photgraphs and depictions of the ancient past to collaboratively develop a map showing the degree of human impact (a Human Footprint map) in the Rodeo Lagoon area of the Marin Headlands.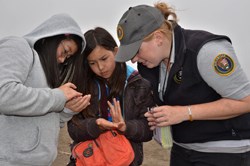 Guided inquiry, small group discussions and journaling enable students to gain an increased awareness of the natural processes and human influences that have shaped this lagoon system, and how the geologic history of the Bay Area is revealed in the rainbow-colored beach sands of Rodeo Beach.
Using our Magic Window teaching tool, students view the Rodeo Lagoon landscape at different points in time. As they make observations and generate questions about the changes they see, they consider whether these changes are the result of geologic processes or human impacts.
Teachers participating in our
Rocks on the Move
programs have access to an online curriculum and a traveling trunk of classroom materials and Franciscan Complex rock samples that help bring local geology alive. Throughout all portions of the Rocks on the Move experience, students learn how to recognize geologic changes in their environments. Park staff offer a classroom presentation prior to your visit to the Marin Headlands, to familiarize students with the physical characteristics of the Franciscan rocks though our
Edible Geology
lesson, and the use of a dichotomous key to identify rock samples. A similar key is used during the field program while students choose their favorite Rodeo Beach pebbles to investigate.
Visit the web pages and lessons listed below to view more:
Last updated: February 28, 2015