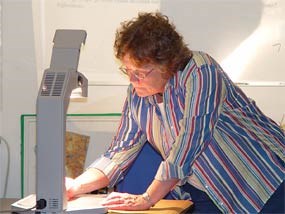 Kathleen O'Sullivan, Ph.D., Secondary Science Methods Instructor
San Francisco State University
Introduction
When we set out to create the Rockin' in the Riprap program, my team members and I were required to make a number of assumptions and experiment with approaches. This article is, in essence, a report on our efforts and their outcomes, and a blueprint that can be used by those who work as professional development providers—methods instructors for pre-service science teachers or individuals offering training for in-service teachers—to craft programs specific to their needs.
Included here are the rationale for using a field/place-based experience, the incorporation of inquiry, our planning approach, and the logistics involved. General explanations of these sub sections are illustrated by specific examples from the Rockin' in the Riprap program at San Francisco's Crissy Field; recommendations based on this experience are also offered.
Rationale
Developing a field/place-based experience for pre- or in-service teachers is time-intensive. Initially, I was concerned that the experience would not fit within the constraints of a once-a-week, three-hour class, and that it would not be practical to offer it on a weekend, since participants would also be taking a full class load and meeting personal obligations.
However, upon closer examination and discussion with team members, I realized that a field/place-based experience would enhance mutual existing goals and objectives. Based on California's professional development standards as well as the National Science Education Standards (National Research Council 1996), these include an understanding of science as inquiry (both theoretically and in the classroom), laboratory teaching, instructional planning, and teaching to science standards. Enhancement of the participants' content knowledge and promotion of their future use of the experience rounded out the list of reasons to pursue this approach. The development team readily agreed to the inquiry aspects, although the actual incorporation was challenging (see the Inquiry section below). The team also agreed to focus on state content standards for students.
Place-based teaching is very similar to laboratory work in that both are hands-on and, ideally, minds-on; both involve pre- and post-activity elements; and both can enhance students' abilities to perform an investigation and to understand the theories behind it. The written plan for the experience is provided to and discussed with participants to further their understanding of instructional planning (short and long versions of the plan are included in the Outdoor Labs and Pre-Service Science Curriculum section).
Once potential field sites were identified, we examined and selected those that could be readily accessed and designed the experience around them. In making our selection, we also took into consideration the issue of enhancing participants' content knowledge; geology was selected in part because few had any educational background in this subject. We also kept in mind the ways participants might be able to use field/place-based experiences with their students, and encouraged them to do so by making them aware of existing resources (park sites and their offerings) and sources of financial support.
Recommendations
Give careful thought to how a field/place-based learning experience meshes with overall goals. While they can be enjoyable in and of themselves, time is a limited commodity. For example, we were also able to use the Rockin' in the Riprap experience in a six-day workshop on astrobiology for in-service teachers because it fit with the workshop's inquiry and content ("Changes in the Earth") goals.
This section begins with my concerns about time, and indeed, the issue was an area of intense negotiation (see more in the Planning and Logistics sections). We were fortunate to have external support for planning the experience, but this preparatory time must also be taken into consideration.