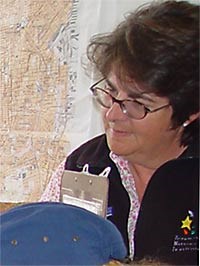 Susan E. Schultz, PhD
Stanford University
Introduction


Learning through interactive, inquiry-based experiences engages learners in their education and provides opportunities to master skills that are essential in achieving quality science education: critical thinking, problem solving, and investigative. Increasingly, teachers looking for innovative ways to engage their students turn to the informal community to learn more about place-based and inquiry-based teaching and learning. To meet the needs of teachers, the National Park Service (NPS) and other informal learning institutions are striving to produce curriculum-based programs aligned with state and national science standards. The Parks as Resources for Knowledge (PARK) program aims to create a professional development model that bridges the gap between formal and informal learning communities and institutionalizes best practices among pre-service science teachers by strengthening partnerships between schools of education and national parks
Through an array of programs, the NPS has provided educational experiences for thousands of K through 12 teachers and students. While these programs were highly successful, evaluations revealed a major gap: for their students to succeed and flourish, teachers need significant support and professional development opportunities in both science content and innovative science teaching methods. Responding to this need, the PARK program seeks to develop innovative ways to improve teachers' access to and use of national parks' educational resources.
My role in the project was to design and conduct an external evaluation of the PARK program. The evaluation plan consists of formative and summative components. The formative evaluation components include documenting the planning process, designing assessment instruments, and monitoring the implementation of the program by providing early and ongoing feedback to the project team. The summative evaluation focuses on assessing the program's overall performance and effectiveness, as well as lessons learned. Qualitative and quantitative indicators, based on direct observation, surveys, and interviews, were used throughout the evaluation.
Goals and Outcomes


The overarching goal of the PARK program is to combine the best education techniques and methodology from the formal and informal education communities with the powerful science content of the national parks. Specific outcomes include:
Developing a model for creating partnerships between national parks and schools of education to focus on pre-service education.
Designing an interactive professional development module for pre-service teachers on place-based education, and integrate the module into science methods courses. The module will focus on using informal science education resources such as national parks to enhance science instruction and engage students in inquiry-based learning.
Enhancing teachers' knowledge of geology content.
Improving participating teachers' science teaching skills in alignment with the National Science Education Teaching Standards.

Work with education professors and park-based educators to model effective teaching strategies in the classroom and in the field during science methods courses for pre-service and induction-period teachers.
Demonstrating the use of technology as a tool for enhancing place-based and inquiry-based science education to reach minority and other underserved audiences who may not be able to get to the park through the development of interactive on-line supporting materials and activities.
Developing teachers' awareness of informal science education resources—particularly in national parks—available to supplement and enhance science instruction.

In-class experiences will model how to use national parks as a way to teach science in context and to explore active, inquiry-based approaches that convey the theory and research of placed-based and project-based pedagogy.
Developing teachers' ability to use national parks as labs for innovative, relevant place-based science instruction.

Field studies immerse participants in NPS resources and facilitate learning new content and current scientific research. On-line resources provide university faculty and pre-service teachers with dynamic interactive reference material as well as access to NPS research data and other rich content available on line.